Luis Tovar shows devotion to his musical journey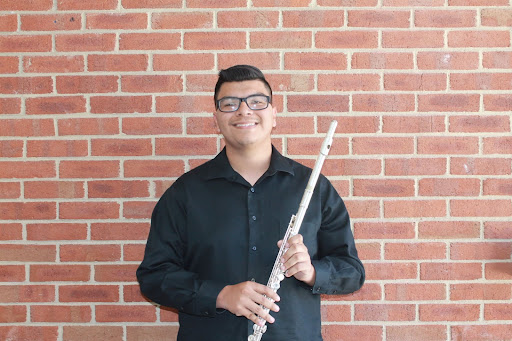 Luis Tovar is a senior at Tunstall High School who has participated in band for the past six years. Tovar is apart of the Tunstall Concert Ensemble (TCE), THS marching band, and THS class band. 
Tovar began TCE in eighth grade after being invited, but when he saw TCE perform he was struck by all that they can do.
Being apart of so many different musical groups requires a lot of dedication and time to become the very best. Tovar practices around 12 hours a week not counting how much he practices at home. 
Tovar can play many different instruments including: the flute, piccolo, and vibraphone for TCE. Tovar didn't ever really have anything thing that influenced him to play, except his family's musical background.
"I just have always liked music. My family have always had a musical background, so that is what lead me into it," Tovar said.
Once Tovar arrived to high school, his love for music and band did not disintegrate.
"I really enjoyed doing it throughout middle school and more opportunities presented itself," Tovar said.
Band definition: a musical group, usually employing brass, percussion, and often woodwind instruments, that plays especially for marching or open air performances.
For Tovar band is much more than musical instruments, but the emotions and advantages participating in band is what makes music even better for him.
"Music is just something that calms me down when I am stressed and it is just something about playing in front of hundreds of people,"Tovar said.
Tovar has grown very fond of the underclassmen and even juniors when helping them advance in their musical journey.
"I've liked seeing how much the kids are playing because when they first came back from Covid they thought it was going to be something, but they ended the season with first place at every competition," Tovar said.
Although Tovar is approaching the end of his high school musical career, he will continue to grow where his love is: music. Tovar is planning to minor in music while he attends Virginia Tech this coming fall.
"I have grown attached to the kids and it bums me out that I am leaving them," Tovar said.
Tovar explains that to succeed, someone should not "shy away just because you don't think that you are good enough because it is a learning curve."
"It was hard at first, but once you do something for a long time it becomes second nature," Tovar said.