PCTC brings 'LOVE' to Gretna
When looking around Virginia, many 'LOVE' signs can be spotted that are built out of many different materials. These signs have become major tourist attractions in the state. "Virginia is for Lovers," which is Virginia's motto, is the meaning behind these signs. 
In Pittsylvania County, there are currently two LOVEworks signs. One is at the Pittsylvania Pet Center, and the other is placed in Wayside Park. However, there is a third one underway that is special to many THS students. They are building it themselves along with students from other schools in the county. 
Welding students at the Pittsylvania Career & Technical Center, PCTC as most students refer to it, are currently constructing a new LOVEworks sign that will stand in Gretna, Virginia. This will be the second sign the welding program at PCTC has constructed with the first standing in Wayside park in Hurt, Virginia.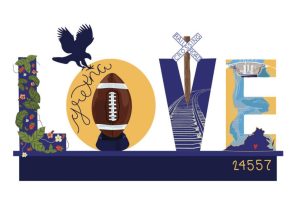 Revitalization for a Greater Gretna has also made this possible by providing the funding for this project. Kate Farmer is the designer of the sign.  
Mr. Travis Woods, the welding instructor at PCTC, is very excited about the production of this sign. Woods is a Gretna native and the sign will stand one street over from his childhood home. 
"For students, they can see and know that this is something that they participated in building. They can go back and show their children and grandchildren the sign they built with their peers. For the local community, it brings a sense of pride and becomes a focal feature of the community," Woods said. 
Alli White is a junior at THS and is enrolled in the welding program at PCTC. This sign holds a special place in her heart. "I plan on moving away from Virgina when I graduate. When I come back home in the future, I can show my future children what my peers and I created for the community," White said.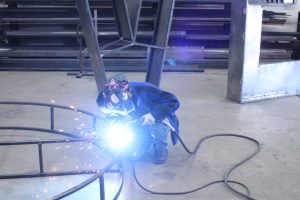 Georgia Weaver is also a junior at THS enrolled in the welding program at PCTC. She is also very excited about the sign. "I think it just represents the facility that we have at PCTC and how we can contribute to the community and impact the people of Gretna. Many people can take pictures of their loved ones with the sign," Weaver said.
The "L" will represent the strawberry farm in the town as well as the strawberry festival. The "O" will represent the Gretna Hawks football team of Gretna High School. The "V" will represent the train tracks that run through the town. The "E" will represent the close waterways surrounding Gretna, such as Leesville Dam and Smith Mountain Dam.
The sign will stand on Main Street and is planned to be unveiled by May of this year. The town's saying is "Ain't no big thing, but it's growing!" This sign is an opportunity for the town to grow, just like their saying.