Wrestling season with Simmons
Chloe Simmons, a sophomore at THS, is the only female on the school's wrestling team. Simmons is an outgoing athlete who loves to compete. This is her second year on the varsity wrestling team.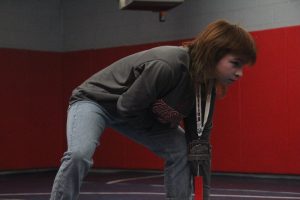 Throughout the wrestling season, her day-to-day life consists of lots of school work, practice, and recovery. Simmons has to take many precautions with what she eats, or drinks, so that she is able to stay in the 106 weight class. 
Simmons holds a win/loss record of 23-13 and was pleased with how she did over the course of this season. She cannot see what next year has in store for her and her teammates.
Simmons competed in the district tournament on Jan. 28 and placed third overall. During the tournament, Simmons won one match and had one bye. Simmons describes her preparation for the tournament as strenuous and tiring. "I was so grateful to have had the opportunity to compete in the district tournament for the second year in a row," Simmons said.
Simmons is a hard working, determined athlete who takes her sport very seriously. Her inspiration comes from her coach, Trey Devall. "He forces me to push myself to the next level," Simmons said. She further describes her coach as an outgoing, positive light in her life. 
Simmons loves her teammates, and expresses their connection as a "brother-sister relationship." If she had to pick a favorite, it would be senior Xavion Jaimes. He is her favorite teammate because he is hard-working, and he is always willing to pick her up when she is feeling down. "I will definitely miss Xavion next year, but I can't wait to see what the future holds for him," Simmons said.
Simmons loves wrestling, but she does not plan to wrestle in college. She plays the sport for fun, and she feels that it would be a lot for her to continue her career past high school. While she loves wrestling, she is also passionate about getting a good education, so that she can be successful outside of sports.
Simmons advice for younger females wanting to wrestle is to "be consistent and never quit because wrestling takes a long time to perfect, but is very rewarding." Simmons will be headed to wrestle in the inaugural girls state wrestling tournament on Feb 24 and 25.