Spreading kindness in Virginia
February 27, 2023
Kindness Week is celebrated in Virginia from February 13 through February 17. Schools all over the state are coming together to show their kindness toward others.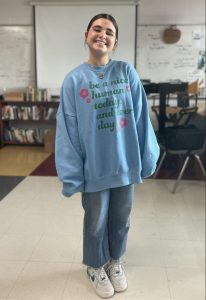 At THS, students and staff are especially displaying their kindness by making posters or putting up sticky notes with positive words on them to show off the event this week. Students' reactions to these notes have been mostly positive, and some have even decided to add to the positivity with their own words of encouragement to their friends and other peers.
Students also had the opportunity to send thank-you notes to their favorite teachers. Senior Trey Collins sent notes to Ms. Carter and Mrs. Kirby, and he had a lot to say about the subject.
"I wanted to lighten up someone's day, and I encouraged my lunch table to do the same."
He feels that it made school fun again and hoped that his teachers appreciated the notes as much as he did. Following the thank-you notes, Ms. Carter received many and shared her opinion as well.
"It makes you feel good to get something like that. It's like having a party, you never know if anyone's going to come," Ms. Carter said. 
Ms. Carter continued by saying, "I was shocked about receiving some of them. And I love that they did it in front of the class. It means more because it's a public acknowledgement."  
These simple acts of kindness make a big difference in people's days, and according to the Virginia Department of Education, by starting these chains of kindness, schools throughout the state are making their environments kinder, safer, and overall healthier.