Nerds have returned
They say that pop culture is cyclical, and what goes around comes back around. A rise of nostalgic, nerd culture has taken the media by storm. The moment the remote turns on the TV, viewers are plagued with the return of entertainment that focuses on adventure, magic, and all things nerdy. This can be seen in the revival of "Star Wars," "Harry Potter," "Dungeons and Dragon," and even chess. 
With the reintroduction of "Harry Potter" and "Star Wars," nerd culture was bound to start thriving once again. The Harry Potter series had a resurgence of popularity over quarantine with the rise of platforms such as TikTok. With this popularity, the legends of the Harry Potter world flooded into mainstream media. 
The "Hogwarts" franchise has used this spike in popularity to produce more media for fans to consume. For example, "Hogwarts Legacy", an interactive story video game that lets players live out the adventures of witches and wizards, was released on Feb. 10, 2023, and it took the younger, gaming generation's full attention. Some players deem their fascination for the game based on the quality and adventure while others openly admit to their obsession being completely nostalgia based. 
Likewise, the appearance of Disney Plus has made the Star Wars fandom abuzz with new shows and adventures to watch. Shows like "The Mandalorian," originally released in November of 2019, and "The Book of Boba Fett," released Dec. 29, 2021, have caused the fandom to pass on its love for Star Wars to a new generation. 
In an unexpected turn of events, platforms like Twitch and TikTok have been influential in the rising popularity of table-top games. These platforms can be given credit for the return of chess with people like Hikaru Nakamura, a chess Grandmaster and Twitch streamer. Many new players have live streamed their matches, and millions have watched them. Social media has given the world a safe space for groups to come together by sharing their love for table-top games and teach others how to play and enjoy them as well. 
A largely mythical table-top game is "Dungeons and Dragons," or D&D. This has had a recent influx in popularity because of shows like "Stranger Things," "Community," and "Riverdale." Along with this, many streaming platforms, like Youtube, have been used to highlight D&D gameplay with creators like Dimension 20 and Critical Role. To add to its resurgence in entertainment, a D&D movie will be released on March 31, 2023, and it stars popular actors such as Chris Pine, Sophia Lillis, Hugh Grant, and Regé-Jean Page. 
The development of nerd culture is not finished yet, and the outcome is just beginning to reappear. With big culturally significant movies like "Harry Potter" and "Star Wars," society can't wait for whatever nerds have in store.
Leave a Comment
Donate to Trojan Messenger
Your donation will support the student journalists of Tunstall High School. Your contribution will allow us to purchase equipment and cover our annual website hosting costs.
About the Contributor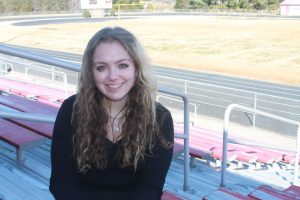 Haylee Hines, Opinion Editor
Haylee Hines is a senior at Tunstall High school in her first year on the Trojan Messenger's staff.  For half the school day, she attends Governor's school,...