All about Andrew
As the bell rings at the end of every class block, students rush out of their classroom and flood the hallways. Students flow from class to class and from locker to locker having their own thoughts and motivations. They each want to do something and be someone in life. Every student walking down the halls of THS have one thing in common; they all have a wonderful personality and a motivation in life, but in their own unique way.
Andrew Cruz is a unique junior at THS with a variety of different hobbies. Cruz spends most of his afternoons after school practicing for his next big competition for band. He has been a part of the Trojan Vanguard Marching Band for four years. 
"Originally I wasn't going to do band, but then once you [Christopher Flores-Bravo] encouraged me I joined and really fell in love with it," Cruz said. He enjoys playing saxophone for the fall season. This past marching band season, the marching band played their show, The Witching Hour, in which Cruz had a solo to end the show.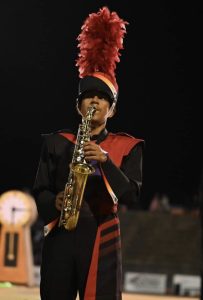 Apart from marching band, Andrew is also a part of the Tunstall Concert Ensemble. He plays the electronic keyboard for this group. "I don't know why I chose this instrument, but it just caught my attention," Cruz said. 
Cruz had always loved music ever since elementary school. Joining marching band in middle school and TCE in high school blew his love for music even more. He started playing a variety of instruments: recorder, saxophone, piano, trumpet, and eventually guitar. He not only enjoys playing music, he found a hidden talent of his: music composition.
Andrew started his music composition journey by making marching band shows. His inspiration was listening to the show music for marching band. From there, he started making soundtracks with other band members for fun. "One time I made my own marching band show, but I never finished it," said Cruz. He created the score for a fun marching band show: music, dynamics, etc.
Cruz started making songs this past year. He uses a production software on his computer to put everything together: first thinks of a small rhythm, then creates the instrumental along with the lyrics.
Currently, Cruz has one full album and one mini album. "I plan to release a single in late April or in early May," Cruz said. He hopes to release another album in June. His songs can be found on most streaming platforms: Spotify, Apple Music, Youtube Music, and some on Soundcloud. You can find him by looking up his name, Andrew Cruz.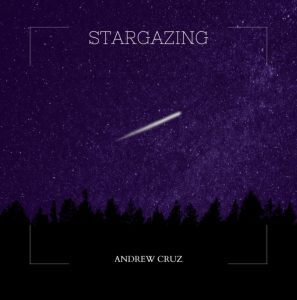 He plans on going to college for architecture. Although he loves playing and creating music, he wants to spend full time drawing and designing. He will still create music while in college and afterwards, but he will have it on the side.
His advice for people who want to start creating their own music: "Definitely don't be afraid to get discouraged by other people. No one should give up on something they love to do."