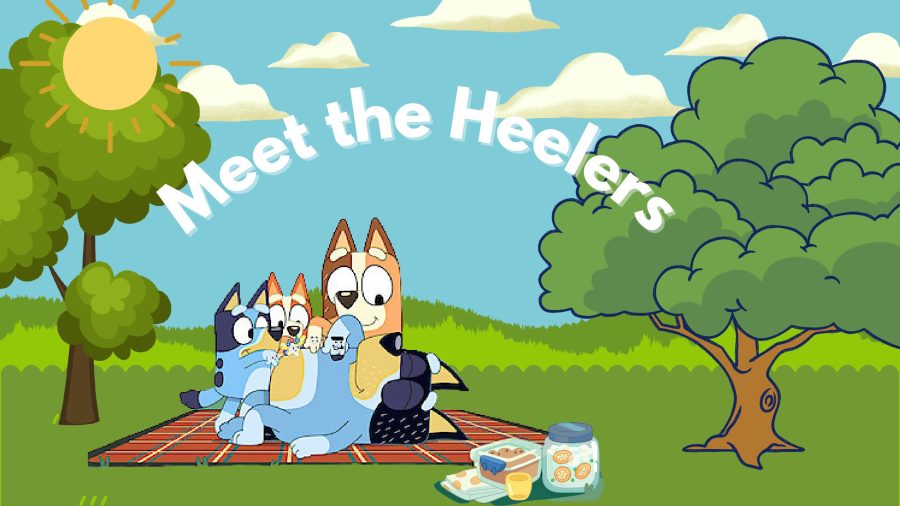 Bluey: Meet the Heelers
Recently the spark of a brand new blue dog has taken the limelight all over the world. Bluey, an Australian animated children's show, follows a family of blue and red heelers and their day-to-day life events. 
The parents in the show are Chilli and Bandit. Chilli is a red heeler and Bandit is a blue heeler. Bluey, the main character, is the eldest sister, 6-years-old, and is a blue heeler like her dad. Bingo on the other hand is the youngest sister, 4-year-old, and is a red heeler just like her mum. 
Despite the show being meant for children, adults and teenagers have also come to appreciate the Heeler family's dynamic. Throughout the episodes there are many child-friendly situations within the show; however, there are a multitude of episodes that battle issues that are more sensitive to adults. 
In the episode 'Onesies,' We meet Chilli's sister, Brandy, who has come to visit the girls. Both Bluey and Bingo have only seen their Auntie Brandy once in their life and continue to wonder why that is. During her visit she gives out their old onesies they had when they were kids, one being a cheetah and one being a zebra, and begins to play with Brandy and Chilli. Bluey complains that she wanted Bingo's cheetah onesie seeing as it was hers when she was little, but it doesn't fit her anymore and she can't wear it.
The episode is somber until Brandy says she needs to leave during the game of chase. Before she can leave, Bingo catches her and they roll around on the ground laughing. Chilli and Bluey hide in the bathroom when she has a question about how they've only seen Auntie Brandy once.
"You know how you really want Bingo's cheetah onesie?"
"Yeah, more than anything,"
"But it doesn't fit you, so you can't have it and there's not really anything anyone can do to make it fit?"
"Yeah"
"Well, there's something Auntie Brandy wants more than anything as well, but she can't have it and there's not really anything anyone can do. Because it's meant to be."
Chilli discusses Brandy's infertility without outright mentioning it to her children. She has only seen the girls once before because she hates seeing her sister have something she never will. She can be seen smiling with Bingo and as soon as she runs away, she realizes her reality.
The show, in its third season, still continues to show us real human topics in a fictional world. From learning how to handle death and grief after Bluey finds a hurt bird, experiencing parental insecurities when Chilli realized Bluey wasn't advancing as fast as the other toddlers in the playgroup, and the struggles of having ADHD or being deaf in a community that's neither of those. Additional issues they have covered are gender roles, generational differences, the struggles of parenthood, politics, as well as the struggle of getting older.
Bluey carefully shows children the reality of the world while still creating a happy environment. Many adults see Bluey as a parenting show, to better themselves and learn new ways to discipline and have fun with their children. 
Bluey can be watched worldwide on Disney+ with a subscription or on DisneyNOW.
Donate to Trojan Messenger