Admit it you love Adam Sandler
Adam Sandler has to be the greatest comedian actor of all time. If you don't know who he is, then where have you been? Under a rock? For the many of us who know who he is, you most likely have a great sense of humor. 
Adam Richard Sandler was born on September 9, 1966, in Brooklyn, New York. Sandler was raised in Manchester, New Hampshire. He is the youngest of four children. He was always disciplined for his comedic acts in school. He first performed at a stand-up comedy club in Boston at the age of 17. After high school, Sandler took classes at the Lee Strasburg theater Anthem Institute in New York City. He also attended Tisch School of the Arts at New York University. Graduating with a bachelor's degree in acting. Adam's first television appearance was on The Cosby show in 1987.
What makes Adam so unique you might ask? He's confident! He always keeps me laughing, when he appears on screen. And who doesn't love laughing? He's always breaking the seriousness of stressful situations with jokes, at least in movies. Also, I love that he acts the same in real life from what I have seen in interviews. No matter what movie I'm watching that casts him, he never fails to do a great job. I haven't seen a bad movie from Adam yet.
Some of my favorite movies that star Adam Sandler have to be "Click," "The Waterboy," and "Hubie Halloween."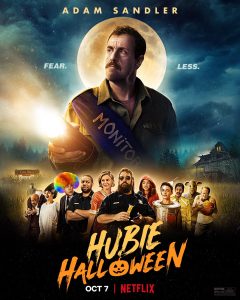 One of the biggest reasons Adam is an icon is because of his fashion sense. Adam is always caught on camera wearing basketball shorts and oversized t-shirts no matter the weather. That's one thing we have in common, I love dressing in oversized clothing because it's so comfortable. I love how he doesn't care what the world thinks, when he steps outside. Recently he was spotted on a movie set wearing nearly half a million dollars worth of jewelry.