Gov School seniors present their Senior Research Projects
Piedmont Governor's School pushes their students to learn more about the inquiry process by mandating that students take a college research class. Most recently, this research class has been led by Ms. Katherine Long. 
A big part of the Governor's School curriculum is the Senior Research Project (SRP) which students start working on at the start of their junior year and finish at the end of their senior year. Governor's School students spend two years conducting original research and developing an experiment which they present during the Senior Research Symposium in front of a panel of adjudicators hosted at the Institute for Advanced Learning and Research. 
Ms. Long strives to create an environment where her students can improve in their academic abilities. She has pushed the Governor's School class of '23 to practice and develop their research to near perfection. 
"The students' junior year sets a foundation for and begins the process of completing this independent research project that spans their entire senior year. The process involves formulating a solid research proposal, conducting the proposed study, analyzing the data, as well as evaluating and discussing the results and implications. The culmination of each student's work at Piedmont Governor's School is a presentation as well as a full paper, including a detailed literature review. This project showcases their knowledge in all subject areas emphasized in our programs," said Ms. Long. 
"The feeling of accomplishment students feel at the end of the entire process is the highlight of every year for me– the beaming smiles and evident pride inspire me to continue to grow in my career."
"Symposium" as all Governor's School students call the event,  was held over the course of four days from April 26-29. Different seniors presented each night and the presentations lasted 10-20 minutes each. The THS Governor's School seniors include Braeden Barber, Riley Canavan, Luke Cassada, Taylor Dodson, Emma Dowdy, Abigail Eades, JC Gonzalez, Jackson Hair, Haylee Hines, Addyson Hunsicker, Samantha Martin, John Mills, Ashlyn Scearce, Dallas Younger, and Lena Zaher.
This week was an emotional whirlwind for everyone involved due to the culmination of two years of work. 
"It was a challenge, but I am proud of myself for doing it. I definitely developed a love for research, and it helped me figure out what I want to do in the future," said Emma Dowdy.  
These students also used this challenge to grow academically and took advantage of the opportunities their research gave them. 
"With all that I had to learn and all the times I have had to practice, I definitely became a better public speaker, and now I know how to use statistics and why it's important in the real world," said Ashlyn Scearce.
"I got to have an experience that not a lot of other people get to have at such a young age, and I was able to use this opportunity while applying to colleges and writing college essays," said Lena Zaher. 
Some students also chose to work on research projects that impacted their lives directly. 
"I have had problems with my skin my entire life with eczema, and I want to be a dermatologist because of my skin issues. So, I conducted my research on non-traditional medicines' effect on acne," said John Mills.
"I chose my topic because of my personal love of the ocean and the amount of time I've spent there in my life. The sorbents that I got to research would maintain that environment," said Addyson Hunsicker. 
However, this project came with trying tasks that the students had to persevere through. 
"Failure is always a part of the process. I learned a lot, and I am proud of myself for it," said John Mills. 
"It was hard to read and find sources for my research. It was almost like learning a new, scientific language," said Dallas Younger. 
Even though the project was trying at times, the Governor's School seniors appreciate the learning opportunities and the help that was given to them by Ms. Long.
"Because of Ms. Long, I know that if I had to do it again, I would be able to complete it confidently," said John Mills. 
"She went out of her way to broaden the scope of her own knowledge to make sure we knew everything we needed even if she wasn't required to," said Emma Dowdy. 
Overall, the Governor's School seniors have come to a consensus that they have more knowledge about research and the inquiry process now that they have finished their senior research projects. 
"I am so glad I got this opportunity, and I wouldn't change the hardships for anything because it helped me grow and has prepared me for my future," said Addyson Hunsicker.
View Comments (1)
Donate to Trojan Messenger
Your donation will support the student journalists of Tunstall High School. Your contribution will allow us to purchase equipment and cover our annual website hosting costs.
About the Contributor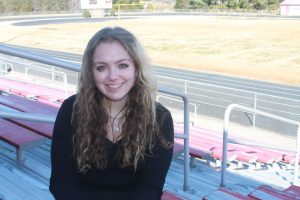 Haylee Hines, Opinion Editor
Haylee Hines is a senior at Tunstall High school in her first year on the Trojan Messenger's staff.  For half the school day, she attends Governor's school,...