Spotlighting the creative minds of Art II
Here at THS, we have an art class that allows students to express their creativity with various types of mediums, from watercolor to paper mache. Ms. Midkiff has only been the art teacher here for two years, but has settled in nicely and has become a big part of the THS staff. She has helped lots of students with expressing their creativity and for some she has even given them new ideas for their field of work.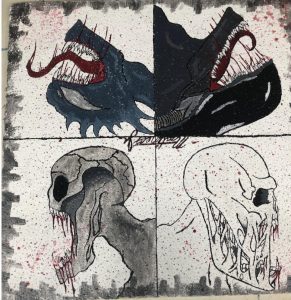 Hugo Martinez Jr., is a senior in Ms. Midkiff's Art II class. "As for the kind of art that I make, it does vary. I draw a variety of things including realism, still lifes, silhouettes, and reproductions," Martinez said. He prefers to draw with pencil and pen, but also dabbles in acrylic paint and charcoal. "One of my favorite assignments I've gotten in art class was the papier-mâché project. I enjoyed it because it was a new experience for me since I have never worked with papier-mâché before and even though it was a little messy I enjoyed it a lot," Martinez said. 
"I don't see myself as an artist; I just draw for my enjoyment, but some of my friends would disagree with me and say that I am a great artist. I am thinking of going into the tattooing industry for a career, but I could also do this as a hobby," Martinez said.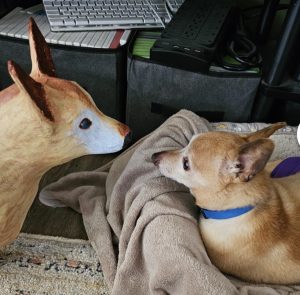 Another one of Ms. Midkiff's Art II students is Aiden Reece. Aiden is also a senior this year, and expresses how he loves to do art for enjoyment. "I mostly draw but like to paint also," Reece said. "I loved the papier-mâché project we did this year, and I also like the diptych (2 canvas with similar theme) project we are doing now." For his paper mache project he made a replica of his dog Nugget.
Senior V Gomes is another student who prefers to use paint markers and watercolor when working on art pieces, but they do digital art as well. "I make graphic art, like characters, animals, and anything that comes to mind." Gomes said. Their favorite art project from this year was the tile project. "I liked drawing for the teacher to make them feel appreciated. Not only was I satisfied with the tile, but my hard work paid off when seeing their reaction," Gomes said.
Gomes is planning on getting a bachelor's degree in fine arts and is excited to figure out what field to go into. "Whether or not you've been creating art for years or just started recently, anyone can consider themselves an artist whether the work is subjectively good or not. I'd say it's mainly about the motivation, thought, effort and creativity you put into your work," Gomes said.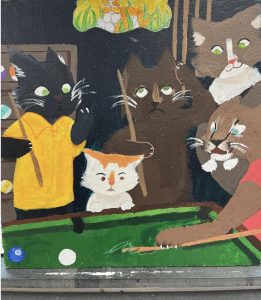 Ms. Midkiff quotes Andy Warhol: "Don't think about making art, just get it done. Let everyone else decide if it's good or bad, whether they hate it or love it. While they are deciding, make even more art."