Preparing for football in the fall
As the upcoming football season rolls around in the fall, Tunstall will begin to see new faces among the returners on the team, such as the cheerleading squad. This new season will bring many new faces, including a new football coach, who has been working with the boys three times a week.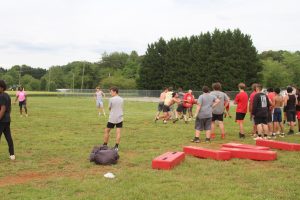 The returners of the football and cheer team express how they feel about the upcoming season especially since it will be their senior season. 
Ryan Yancey and Bricen Pool have been playing football all of high school together and plan to finish it out together one last time. 
"I'm definitely more excited about this season because it's my senior season and the last season of my high school career," said Yancey. 
"This season is a little different considering I'm coming back from an injury from the past season and also due to it being my senior year,'' said Pool. 
Coach Huffman tells his feelings about the new season as well: "I'm excited, I also think the boys are too. We have a new coach, and he's really working them to do better and get better," said Huffman.
Our returning senior cheerleaders also express their feelings about the upcoming season. Senior Alex Wohlstein and junior Kelsey Hyler speak about the coming season. 
"This makes my third year cheering for Tunstall after transferring from Radford. Sometimes I get upset with the fact that this is my last season because the girls have become a family to me, but I'm excited to spend my senior season with the cheer team," said Wohlstein.
"I've been cheering since elementary school, so it's very bittersweet considering it's my senior season. I can't believe that it's finally my turn to be a senior cheerleader. It felt amazing knowing that I made the cheer team again because cheer has brought me so many new friendships and bonds. I will miss them all so much when I leave," said Hyler.
This past season the boys varsity team was defeated mostly throughout the season, but with the new coach, they are hoping for a good comeback this season with returners and brand new faces alongside them for support.