On the Track with Brooklyn Brooks
Senior Brooklyn Brooks is our elite track star this 2023 season. Brooks began to be interested in track last season and has been engaged ever since. Her first event when starting track last year was running the 200m dash and hurdles. 
Brooks only does outdoor track and tends to enjoy it. Outside of regular scheduled practice she does a few sprints and high jump exercises to better help her performance at the meets.
This season she will be attending districts, regionals, along with states. She had gotten to regionals last year and then didn't qualify for states, so this will be her first time attending states. 
All of the following events Brooks is competing in this season include 100m dash, 300m hurdles, and high jump. Her main two events this year are hurdles and high jump.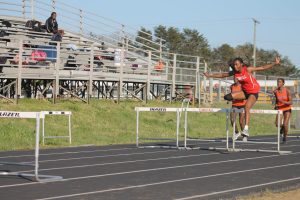 Brooks expresses her feelings about track. "When I first joined the track team I didn't expect for me to come this far. I truly am thankful for all my supporters, especially my mom who has always supported me through everything," said Brooks.
Coach Emerson, the girls track coach, expresses how well and how big of an impact Brooklyn has made to the track team. "She is definitely a shining light within Tunstall athletes and the district. She didn't start track until her junior year and that shows how much a person can grow in two years,"Emerson said.