As the 23-24 school year begins students can see and recognize many familiar faces when it comes to teachers, but this year there are six new teachers and a new college advisor joining the Trojan family.
Mr. William Bridgen is new to the history department. He teaches 11th grade U.S. History. Mr. Bridgen got his bachelor's degree from Averett University in Danville, Virginia.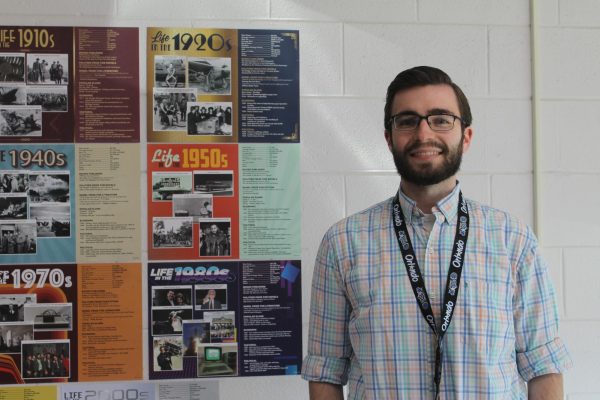 This is his fifth year of teaching, but it is his first year at Tunstall. He previously taught U.S. History at Westwood Middle School and Taylor Virtual Academy. Bridgen says that he chose to come to Tunstall because he wanted a change of scenery, and he also wanted to come back home. "Teachers that I had here like Mrs. Mills and Mrs. Potts helped me realize that teaching can be fun," Bridgen said. He says he really loved making connections in history, especially in college, and that drew him to the profession of teaching. Bridgen says his main goal for his students is that they don't just remember dates or terms in history, but he wants them to think about why things are the way they are.Outside of school Mr. Bridgen likes to watch movies, be with his fiance, play video games, and eat.
Mrs. Arlene Smoot is the newest math teacher. Mrs. Smoot has always been drawn to teaching since she was young. Ms. Smoot also graduated from Tunstall. She previously taught at Danville City schools for 27 years. Ms. Smoot had always heard good things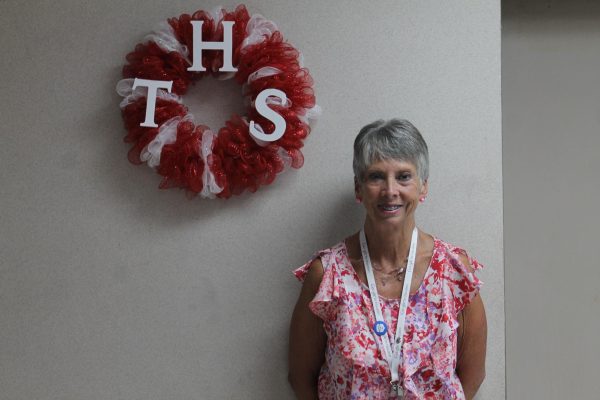 about THS which is what drew her into coming to Tunstall. "I have always liked math," said Smoot. You can find her on upstairs A wing teaching algebra 1 and geometry.  Mrs. Smoot's main goal for her students is to help set them up for their future. Outside of school she enjoys being outside and mowing the lawn. Mrs. Smoot's advice for her students is to do their best and succeed.
Story continues below advertisement
Mr. Robert Gamlowski is the new Family and Consumer Science teacher at THS. Mr. Gamlowski worked at Tunstall last year as a teacher's assistant for the support classes. Previous to his time at THS, he worked as a professor at Los Angeles trade technical center in southern California." I started looking for career options and started the switcher program so when people already have degrees they can actually get a teaching license in maybe a different subject than what their degree is in," Gamlowski said. He got his  AA (Associate of Ar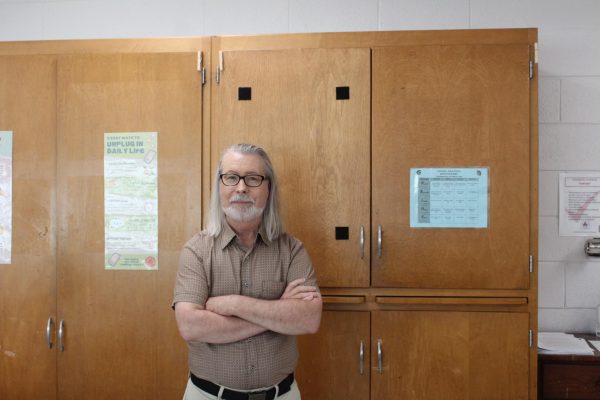 ts) degree at the College of Alameda located in Alameda, California. "Then I earned my bachelor and master's degree at Cal State University of Los Angeles," Gamlowski said. Outside of school Mr. Gamlowski works hard to help build up his small business where he sells downloadable sewing patterns, and he enjoys gardening even though he isn't the best at it. Also, he is a board member of a community group in Chatham that helps with beautification and helps small businesses increase their business. Mr. Gamlowski's main advice for his students is to pay attention in class and in life.
Ms. Rachel Mininger, also known as Ms. M, is the new college advisor at THS. Ms. M went to Virginia Military Institute. She originally planned to join the Navy as an engineer, but she was medically disqualified. Ms.M decided to stay at VMI to remain with her friends.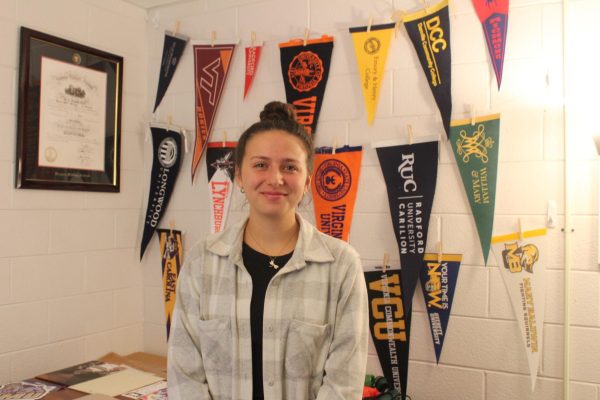 "I had a lot of trouble trying to go to college when I was in high school. I didn't have a lot of guidance, and when I saw the job posting about being a college advisor, it was something I was passionate about," Mininger said. Next year Ms. M plans to apply to graduate schools. She is hoping to get her master's degree and PhD in English to be a professor. "I think my main goal is to just help them find a plan for where they want to go. That's my main goal. Even if it's just one student I am able to help get to college or the military or just to a job they really like. I just want to see them succeed after high school," Mininger said. Outside of school she likes to read, hike, run, and kayak. Her advice for students is to focus on yourself and find what you love to do.
Mrs. Amanda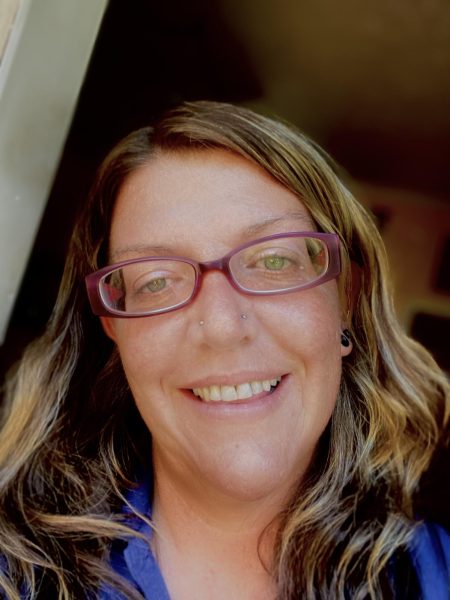 Baker is a new addition to the THS English department.This year will mark Baker's 17th year of teaching. She attended Averett University. She previously taught English at Gretna Middle School for 16 years. "I just got tired of teaching middle school and I decided that I wanted to switch to high school," Baker said. Baker wants her students to leave her class knowing the basics of English but to also know more about themselves. Baker says that outside of school she loves to redecorate.
Mr. Kirkland Brown is a new special education and inclusion teacher at THS. He is also the new football coach for the '23 season. Brown got his bachelor's degree from Averett University. Although it is his seventh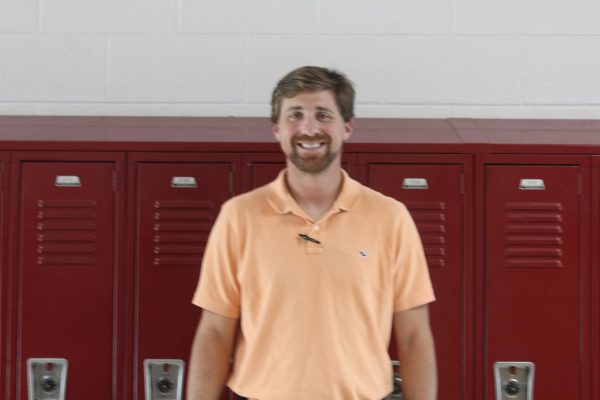 year of teaching, it is his first year teaching at Tunstall. Brown says that his main goal with his students is that they make progress. Brown said that he did not even want to be a teacher until his junior year of high school. Because he decided to become a teacher so late, he did not have an education degree, so he decided to become a special education teacher. He also worked with people who had special needs when he was in high school and that helped spark his interest in it. Outside of school Brown likes to be with his wife, Hope, and three year old daughter.
Mrs. Heather McDowell is one of two new additions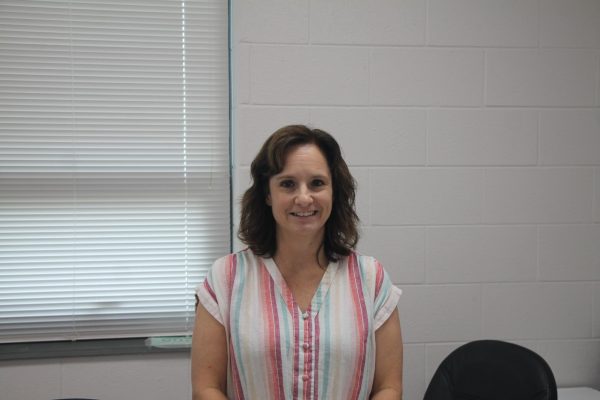 to the math department. She currently teaches algebra l. McDowell attended Averett University. "I didn't even want to become a teacher until I had my children," McDowell said. She has been teaching for 15 years. McDowell previously taught at Westover Christian Academy and Bonner Middle School. "I just want learning to take place," McDowell said about the goal she wants her students to achieve in her class. Outside of school Mrs. McDowell likes to spend time with her family.
THS welcomes these new teachers and staff and we hope to see them here again for many years to come.