The idea of driving causes some people a lot of stress, take sophomore Marco Pineda for example. "It's really scary, 'cause like you're driving these really big, heavy vehicles on a street and you can just crash at any moment," Pineda remarked. Hopefully, by understanding the process you go through to obtain your driver's license, you will not feel like Pineda. 
Requirements
In order to be able to test for a learner's permit, you have to be at least 15 ½ years old. A class is offered in schools in order to prepare students for the test, though it is not required if you are a legal adult. A fairly new addition is the 90-minute parent/teen meeting, which all students have to attend in order to receive the certificate for the driver's education class. As soon as you hit the age requirement, you can test for your learner's permit.
Learner's Permit Test
When going to the DMV to test, you have to bring proof of identity, residency, and legal presence. You are able to go to the DMV website to see what the accepted forms are for each. 
"It was nerve-wracking, but the actual test itself was pretty easy," sophomore Morgan Phillips said. The learner's permit test consists of a traffic signs portion, which you have to score a 100% on, and the motor vehicle laws and safe driving portion, which you only have to score an 80% on. You have three tries to meet the requirements before you have to take a class. The class could be a classroom driver education course or an eight-hour driver's manual course. The only advice that Phillips had to offer was to study well beforehand, as she made the mistake of cramming. 
Story continues below advertisement
After passing the test, you will be given your learner's permit. 
Driving with a Learner's Permit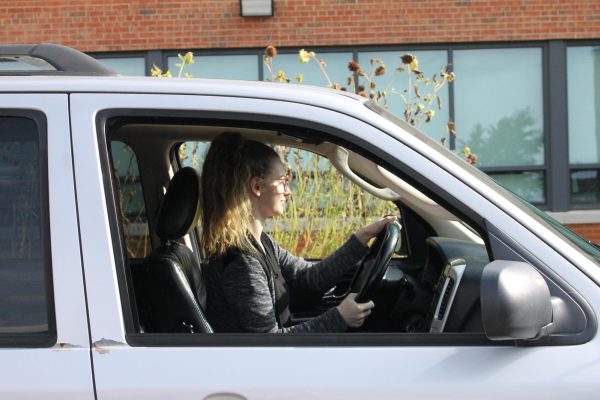 At this point, you'll be able to drive. Driving with only a learner's permit comes with plenty of restrictions and expectations. Since you need practice driving, you are expected to drive at least 45 hours during the nine month period that you have your learner's, with 15 of those hours being after sunset. When driving these hours, you have to have a licensed driver that is at least 21 years old in the passenger seat, unless they are an immediate family member, in which case they only have to be 18 years old. While you can drive with as many family members you want in the car, you have a limit on non-family members. You are allowed just one passenger who is under 21, with few exceptions. Yet another restriction is the  curfew, meaning that you are unable to drive between midnight and 4 a.m.
Getting the License
For your driver's license, you would have to complete the above and have your parents sign off on them.  Afterwards, you'd have your driver's license, or really a 180-day provisional license, which you'd have until they mail you the actual license. 
You will probably still be intimidated by driving when you actually get behind the wheel, but Pineda had something to say about that, too. "The driving will probably be easier over time, we'll get used to it, like most people do," Pineda noted.