Bubba's Ice Cream is a very well-known ice cream shop in Danville, VA. On the weekends or even during the week, having a treat at Bubba's is a popular thing to do. Many of the students at THS are big fans of getting ice cream there. They have a lot of different types and flavors of ice cream to choose from.
Back in May, Bubba's Ice Cream reopened a new building on Franklin Turnpike. The old Bubba's was a small and worn down building on Riverside Drive. At the end of the school year in 2023, they upgraded to a bigger building with a better menu. "[Franklin Turnpike] is a better spot with more traffic and a good place to reopen," senior Kyle Kirby said. The new building is painted white with two windows, one where you order, and the other is where you receive your order. Located in front of the building are blue tables, benches, and a parking lot wraps around it. 
Kirby works at the widely known Bubba's Ice Cream. He works four to five days a week with around 24 hours a week in total. The menu at Bubba's is very diverse including milkshakes, sundaes, astros, blizzards, hot fudge cake, banana split, dippin' dots, and more. When not working, Kirby typically gets a strawberry milkshake. For people who like chocolate, Kirby recommends a hot fudge sundae. For those who do not like chocolate, he said the banana split with no chocolate is tasty. In his opinion, Bubba's is the best ice cream shop in town. "We have the best customer service because the workers actually want to make the ice cream and aren't doing it just to get paid," Kirby said.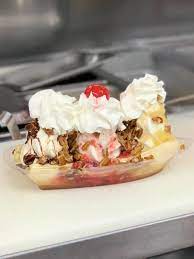 Junior Dakotah Younger is one of the students at THS who enjoys going to Bubba's Ice Cream. He often goes in the summertime or when the temperature is high. He recommends the ice cream cones or milkshakes. "People are going to hate me for this, but I like the banana milkshakes," Younger said. Younger likes the new building because everything is more improved and fresh. 
Story continues below advertisement
Sophomore Lauren Torborg is a regular customer at Bubba's. She usually goes every other week with her dad or the Tunstall volleyball team. Her favorite thing on the menu is a strawberry sundae and she recommends this to anyone who does not know what to order. Bubba's is the best ice cream place, in her opinion, because of the soft serve ice cream. Her favorite day to go during the week is on Friday. "You can see a lot of people you know and it is a good little treat for the end of the week," Torborg said.  
Overall, Bubba's Ice Cream is a very popular place that THS students enjoy. "[Bubba's] has been around forever and is very close by," Younger said. When wanting a refreshing treat, Bubba's Ice Cream is one of the best places to be.