Prom theme unmasked
2015's theme to be "Midsummer Masquerade"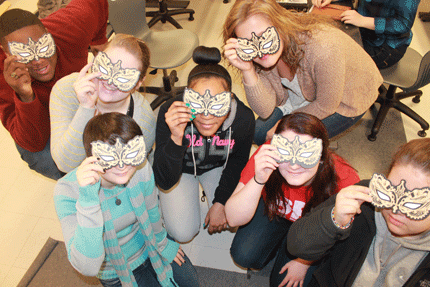 "I've been waiting for this my whole life," said senior Victoria Sater about the 2015 prom. The Tunstall High School prom theme was revealed as a Midsummer Masquerade.
On February 24, 2015, the invitations to prom were delivered to the homerooms of juniors and seniors.  Mckenzi Flippin said, "I'm excited! It's something different. I love the invitation. I think it's cute!"
The original theme was suggested to be a "Secret Garden," but after getting student input, it changed to a masquerade event. The theme name "Midsummer Masquerade" came from the Shakespearean play. Once the idea began, Mrs. Brown gave her approval, only if the student council promised to buy her a mask. "I'll get her a whole outfit if that's what it takes," said Mrs. Potts.
The prom theme this year has definitely stirred up varied conversation and opinions.
Senior Christian Rutledge said, "I think it's stupid."
"I don't like it. I don't understand it," senior Caleb McFarling agreed.
"I think it's stupid that it's a masquerade theme but you can't bring your own mask without it being on a stick," said Madalyn Thompson.
However, some Trojans disagree and find the prom theme quite appealing.
"I love it!" Mrs. Goard said.
Junior Kristen Hudson commented, "I think it will be different than any other prom theme. I'm anxious to see how it all works out!"
"Oh, that's fun! You never know what how that could go," laughed Mr. David Thaxton. "It's kinda like a 'guess who's behind the mask' kinda thing."
The Midsummer Masquerade will take place this year on April 18th at Danville Golf Club. Students can bring their own mask, so long as it's on a dowel. Although there are varied opinions, the faculty, staff, and student body all look forward to approaching the end of the year with the annual prom.