Commending our graduating scholars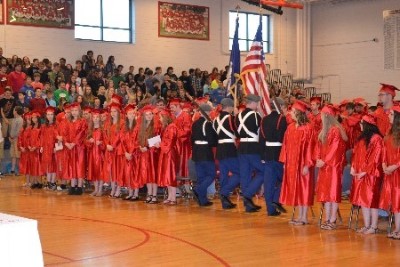 Amid the sea of red gowns and nostalgic parents came a warm welcome from Mrs. Barbara Brown and a speech from the SCA President Demi Younger. The scholarship assembly for seniors began early on May 1, 2015, to the tune of Friends Forever by Vitamin C. The top 25 students from the graduating class of 2015 were announced. Booster Club scholarships were given out, including the athletic award of $500 to Austin Canavan and Jaclyn Williams.
The Academic Achievement Award, presented by the Bank of Trust in the amount of $250, went to Curtis Gray. Both DCC and Averett gave out scholarships, including $10,000 per year to both Patience Banks and Hunter Liles. Tiffany Crews was awarded the Dean Scholarship of $13,000 per year. Jaclyn Williams, Henry Field, Zach Smith, Allison Turner and Joel Johnson all won the Presidential Scholarship of $15,000 per year. Hayley Shaffer was awarded $25,000 per year by Salem College.
After Mrs. Hamm received her award from three appreciative Trojans, the English 12 award went to Caleb Ashworth, while the AP English went to Austin Canavan. The Creative Writing awards were won by Kelsey Edwards and Kaitlyn Aaron. Amber Murphy and Trevor Mensavage helped give out The Interact Club awards to Payton Loy, Kaitlyn Aaron, Brandon Farris, and Megan Cassada. The club also donated $25 to the organization of their choice.
National Scholar went to Bri Carter, and Caleb Ashworth received the Athlete award. The President's Award for Academic Excellence went to Austin Canavan, Landon Holly, Payton Loy, and Jason White. A.J. Warren was awarded Student of the Year.
63 seniors received Honor Roll. Hunter Liles and Lauren Yoder were also DCC graduates with Dual Enrollment. 25 Trojans who met certain requirements were announced as the 2015 Commonwealth Scholars. 70 students were awarded their gold sashes and tassels and received the prestigious Honor Graduate title.
The Leadership award went to Caleb Ashworth, along the Principal Award, which was received by Kaitlyn Aaron. Salutatorian went to Hunter Liles while Valedictorian was awarded to Landon Holly.
The rainy day concluded with group pictures in the auditorium and senior luncheon in the cafeteria.