Robotics team takes home rookie award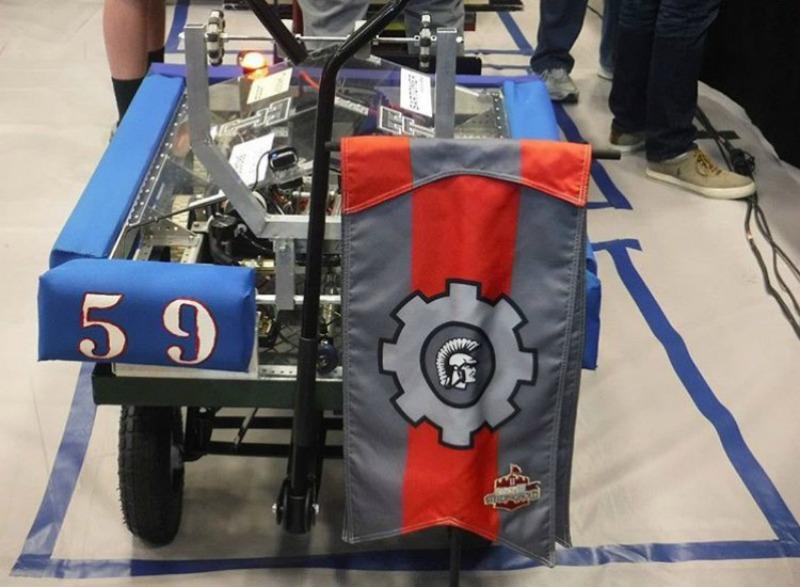 The Trojan Robotics Team 5950 began their season with outstanding results at Blacksburg High School. The team spent the weekend of March 11-13, 2016, in Blacksburg, Virginia, and took home the Highest Rookie Seed Award and the Rookie All-Star Award. Their scores included 244 autonomous points, 135 challenge points, 57 goal points, and overall they ranked 17 out of the 39 teams that qualified for finals.
The team was composed of 15 Trojans, five of which served as captains, led by senior Tyler Martin. Students took shifts working as spotters for the robot and doing repairs between challenges. Senior Dwight Tate and junior Brandon Warren drove and operated the robot. Noah Schmitt, Emma Hale, and Stephanie Mell all worked as "human players," rolling balls on the obstacle course and guiding the drivers when the robot rolled into blind spots.
Saturday began with 68 teams who were paired into random alliances, working together to fight their way into finals. The challenges on Sunday included challenging a tower on the obstacle course, breaching four out of the five tower defenses, and conquering the skeleton tower, which required maneuvering the robot so it would lift itself six inches off the ground.
Sunday the top eight teams were ranked. Each ranking team would compete in finals, and each team also picked two others schools for an alliance. Because the Trojans ranked 17, they did not qualify on their own, but team 1413 "Scrappy," who ranked third, picked Tunstall to help them in the final fight. The award ceremony Sunday night gave Tunstall their final points and Blacksburg High School awarded them two trophies, qualifying them for districts.
Defense challenges and the overall height of the robot were some of the drawbacks to their competition, but freshman Safety Captain Nathan Evans believes the teams biggest accomplishment was, "getting as good of a rank as we did and making it to quarter finals. Being a rookie, it's almost unheard of."
"Our goals are to get further than quarterfinals and do well at districts," said junior Brandon Warren.  The team learned a lot while at their first event. "We know the strengths and weaknesses of the robot," said Warren.
"If we had better strategies, I believe we could get further than quarterfinals," commented Evans. "[My favorite part] is seeing the robot that I built for six weeks accomplish what it needed to, and doing it really well."
Friday, March 18 team 5950 will travel to Churchill High School in Portsmouth, Virginia, to compete again in hopes for bettering themselves for districts. April 9 the Trojans will take on all other All-Star Rookies in the region.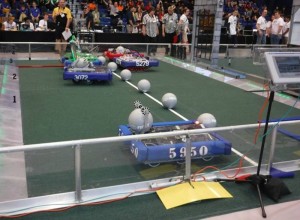 Justin Sherlock
About the Contributor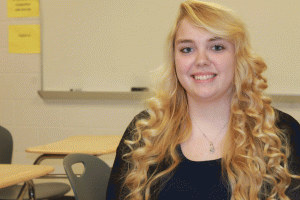 Tiffany Bowker, Editor-in-Chief
Tiffany Bowker is a senior at Tunstall High School and serves as the Editor-in-Chief of the Trojan Messenger. Tiffany is an active member of the school's...