Action-thriller "Don't Breathe" will leave you breathless
Hang on for a minute...we're trying to find some more stories you might like.
Rocky (Jane Levy), Alex (Dylan Minnette), and Money (Daniel Zovatto) are three Detroit thieves who get their kicks by breaking into the houses of the "financially-inclined". Money gets word about a blind veteran who won a major cash settlement following the death of his only child. Thinking that the vet would be an easy target, the trio invades the man's secluded home in an abandoned neighborhood.
Once inside, the band of thieves soon find out that the crippled old man, is not who they thought he would be. After being trapped inside, the young intruders must fight for their lives, while being trapped with a psychotic blind man.
The overall chilling suspense left me on the edge of my seat and left me in a constant state of hiding behind my hands. Every twist and turn in this R rated film will have you looking over your shoulder wondering if he's right behind you. This film is definitely worth the watch . It has a good storyline, great acting, and an overall eerie vibe to set the scene.

About the Writer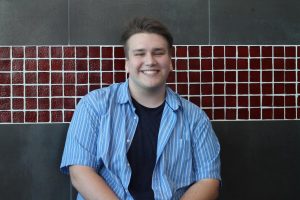 Gavin Draughn, Editor-In-Chief
Gavin Draughn is a senior and this is his fourth and final year on the Trojan Messenger staff. After many trials and tribulations, he has finally made...