Reese inspires inaugural volunteer award
September 21, 2016
While most teens are mostly focused on themselves, senior Kaelyn Reese is spending her time putting others first and making a difference in the community.
On Sept. 10, Kaelyn Reese received the Kaelyn Reese award. That's right- Reese has an award named after her for volunteer of the year for the Danville Cares organization. This award was given to her because of the countless number of volunteer hours she has completed in the last year with the group.
"We decided to name the award after her because she is the embodiment of what dedication to others looks like," Danville Cares director, Linda Zimmermann said.
Over the past year Reese has spent countless hours volunteering in the community. She's been a part of things such as the community baby shower and the veteran cookout. Reese also helped collect household and clothing items for a local family who lost their home to a fire and was a part of the Out of the Darkness walk.
"Kaelyn is an inspiration! When I look at her, I see the type of person I want to be. Kaelyn is a walking example of what's right in the world," Zimmermann said.
"I feel very honored to have this award named after me and I hope that it will inspire others my age to become more involved in the needs of our community," Reese said.
Reese started volunteering with Danville Cares about a year ago. Her role with Danville Cares is helping however she can and planning/organizing various events.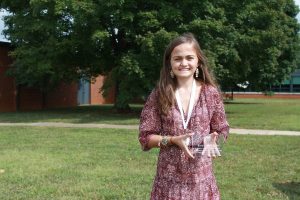 "My motivation to volunteer comes from my heart because I love doing what I do and I enjoy helping others," Reese said.
"Kaelyn shows other teens how to make a difference. When so many other teens are more concerned about what's going on in their own life, Kaelyn is busy working to make a difference in the lives of others. Instead of working to get money to buy something for herself, she works to be able to buy items for needy families. I know this for a fact because I have seen it with my own eyes. She works on a daily basis to do good all while showing the world that she is the good," Zimmermann said.
After high school, Reese plans to attend college and pursue a degree in elementary education. She also plans to continue to volunteer with Danville Cares and other organizations like Danville Out of the Darkness and Recovery Refuge.