DECA and FFA members enjoy Virginia state fair
September 29, 2016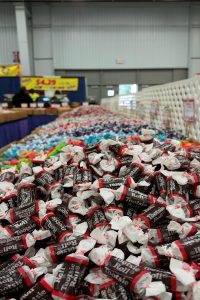 Early Wednesday morning, the DECA club set off to the Virginia State Fair in Richmond, Virginia.
At 6 AM, the buses loaded  up with 49 students ready for the day. After a three and a half hour drive, members took a stop at McDonalds for breakfast.
Students finally made it, but the waiting wasn't over. They waited in groups for their wrist bracelets and then went separate ways, some to go to the rides and others to go do competitions.
From THS, eight first-time contestants  entered the Role Play Competition.  Although they did not place top two out of the state, it prepared them for the district level competitions that will be held this January.
After about 30 minutes, the students who did the competitions met up with the rest of their friends. While they were there,  students met up with other friendly faces from FFA club.
Angel Gibson competed in a Horticulture demonstration contest and ranked in the top 20. Meagan Pollok and Nathan Evans competed in an Agriscience competition, Evans ranking in the top 20, and Pollok placing 1st as the state Division 1 champion.
At 3:00 PM, rain started to pour, so several  students went to visit Young McDonald's Farm.
"We got to interact with the farm animals. We even saw a baby calf named Lisa who was born just the day before. She already weighed 65 pounds," said business/marketing teacher Michelle Carter.
The fair had a huge building with different stands. One that stood out to everyone was the candy table.  There were five long tables of various types of candy for sale.
The students were to meet back at the bus at 4:30 PM. Everyone ran for half a mile in the rain to make it back.
Participants rode on the bus for 2 hours before stopping at Cici's pizza for what was supposed to be a quick bite, but turned into most of the students playing  arcade games. Carter gathered everyone up and they rode for another 2 hours in the rain, making it back at the school around 10:00 PM.
"It was a great day of comradery and networking with other Virginia DECA Students, even though we all got soaked by a major downpour of rain. The Richmond area received nearly 5 inches of rain within a few short hours. We were all happy to see THS by the time we made it back much later than expected," said Carter.