Do it yourself for spirit week
When it comes to school spirit, Tunstall has no shortage. Homecoming week is the time students show just how much they love their school. From wearing tutus in the hallways throughout the week to cheering along with the bleacher creatures in the stands on game night, each student shows their support and pride for the school in different ways.
This year, the varsity cheerleaders allowed the students to decide the themes for two of the spirit days at school though a poll on the Trojan Messenger. The students voted and chose "On the Farm" day as the first of five themed, spirit days.
On this day, students can dress like anything connecting to a farm: crops, farm animals, farmer, etc.
Dressing for this day can be as easy as buying a plain white t-shirt and a black sharpie and, using the sharpie, drawing black spots on the shirt to transform your shirt into a cow costume. Accessorize your costume with a black or red choker, cut out ears from black cloth and attach them to a headband, and a constant moo-ing throughout the hallways. Or, for the rednecks reading this, just wear your normal attire of work boots, jeans, and a plaid shirt and call yourself a farmer.
The second day the student body voted on was Disney day or, as it's known, "Once Upon a Time Tuesday." This is a day students can dress up as any Disney character they choose, new or old. For this day, teenage girls get out the tool and glitter to transform themselves into a Disney princess by wearing a tutu and a crown. Or, girls can choose to wear their favorite red polka-dot shirt and the mickey ears they've had since they were three years old and be Minnie Mouse. For boys, it can be as simple as pulling out their old Star Wars or Avengers t-shirts and being their childhood hero for a day.
"Woke up like this Wednesday" is the theme students have been wanting for years: pajama day. This day is simple- wake up, come to school. Wear your comfiest pajamas or onesie, grab your stuffed animal, slip on some slippers, and walk into school.
On Thursday, students are encouraged to dress in their favorite college gear or dress as a brother/sister of a fraternity/sorority for "Theta Thursday." Students can wear anything connected to their favorite college: shirts, hats, shoes, overalls, painted faces, etc. Students can also wear a button-up shirts, bowties, hats turned backwards, and sperries to dress as a frat boy; or bright colored shirts, duck boots, and glittered anything to be a sorority girl.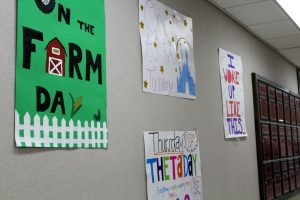 Friday is, of course, Spirit day; everyone's favorite day of the week. This is the day students show all their school spirit by wearing all red, white, and gray/silver. Glitter, tutus, and painted faces will be seen throughout the hallways as well as old Tunstall jerseys, Tunstall class t-shirts, and an abundance of school pride. On Friday, the pep rally will take place during fourth period where they will announce the boy and the girl from each grade who showed the most school spirit throughout the week. While almost everyone dresses up and participates on most days, the students named at the pep rally have gone all-out everyday and stood out among the rest.
School dress code will still be enforced throughout the week although students will be allowed to pay a dollar each day to receive a wristband to wear a hat, can wear slippers on Wednesday, and can paint their faces.
Spirit week is the one week of school most student look forward to and is talked about throughout the school year. Each student only has four spirit weeks and tries to make each week the best one yet.