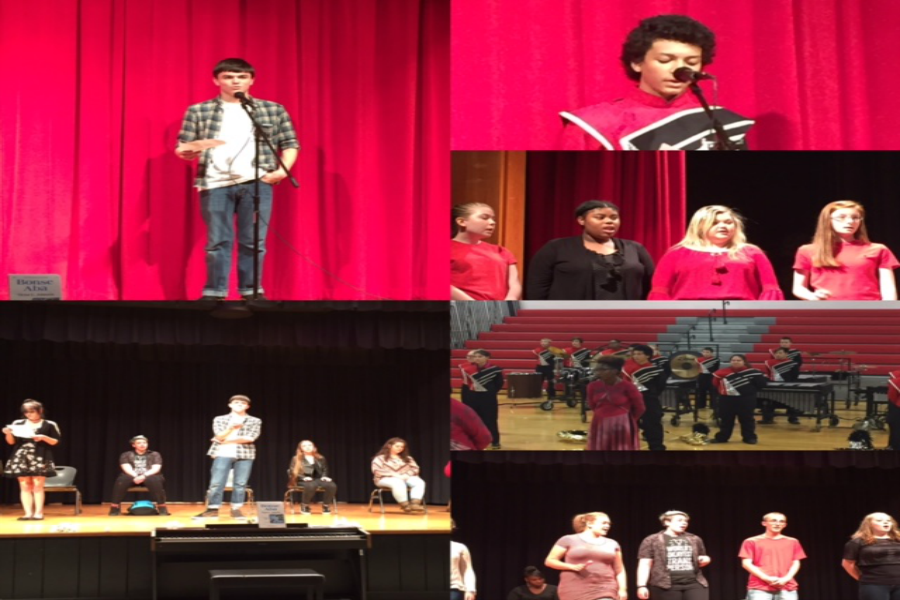 Showcasing and falling for the arts
Friday night was an eventful night as students, parents, and teachers alike crowded the halls, gymnasium, and auditorium for the 2016 Fall Arts Showcase. This is an annual event held every first semester where all of the art, band, chorus, and drama students show off their work in front of countless people. Not only is a great opportunity to show what they've been working on, but for many, it's the last time they get to display their talents before they graduate.
The night opened with a brief showing of creations from art students, which were displayed on long rows of tables in the hall. Once the art was evaluated, a select few winners were chosen for first, second, or third place.
First place winners were Christine Nguyen in Psychedelic Art, Cecelia Phillips in Face and Body Pose, Matt Fulcher in Watercolor House, Humanitarian Projects, and Best in Show, Randle Morrison in Drawing and Illustration and Ceramics, Jonathan Champion in Humanism in 8 phases, Kaitlyn Carter in Multi Point Perspective and Landscapes, Matthew Holder in Children's Books/Graphic Novels and Ceramics, and Britney Vincent in Kinetic Art.
Once that was done, everyone was crowded into the auditorium where two students, Cameron Beale and TaShaan Logan, took the stage and read some of their literary works. Cameron read his poem first, which was entitled "Godspeed," then TaShaan followed after him with four poems entitled, "12 Year Run," "Checkmate," "You Fought Back," and "My Addiction."
"I was nervous," Logan said, " but it felt great when the rest of the band went wild when I was done!"
After that, the drama stole the stage to start the performances with their show entitled Opinion Piece. Most of the actors were very excited for their performance such as Allison Dickens who said, "Now that we're not being judged by professional judges, it's a lot less stressful." Dickens is referencing One Act, which is a competition the drama participated in on November 4.
However, Katie Gray was not so optimistic about their performance.
"After the harsh scores we got last time [at One Act], it's pretty discouraging," she said.
When asked what they needed to improve on, Dickens explained, "The judges said we needed to project more and to have better diction, or vocabulary."
Once the play was over, chorus took the stage to perform several songs, which were "White Winter Hymnal," "Bonse Aba," "Deep in the Meadow" from The Hunger Games, "Hallelujah" from Shrek, and "The Chipmunk Song" from Alvin and the Chipmunks. When asked about their favorite song, sophomore Trinity Oxendine said, "Mine would have to be 'Hallelujah,'" while senior Daesha Green said, "'Bonse Aba,' no questions asked."
About graduating and leaving chorus behind, Green said, "I'll miss just getting to sing like crazy!"
Once the last song was sung, a brief intermission was held so that everyone could see the results of the art competition and move to the gymnasium for the last performance of the Trojan Vanguard marching band's show, Seven Deadly Sins. Although the band was not able to march and play their show, the standstill performance still received a massive applause once the show was over.
Before the show, junior Matthew Holder said, "I'm very excited! We've done well this year, so this will be no sweat."
The event was also important for the first year band members.
"I was more than ready for this performance," said freshman Chloe Adkins, "I couldn't have asked for a better rookie year!"
A few band members were graduating this year, and for them, it was a very emotional night.
"I'm going to miss every single one of them," said senior Candace Mitchell, "We are like one big family!"
After the band had finished, the stage was cleaned up and everybody said their goodbyes to all the seniors of the clubs. The night was special for those that performed and those that watched.