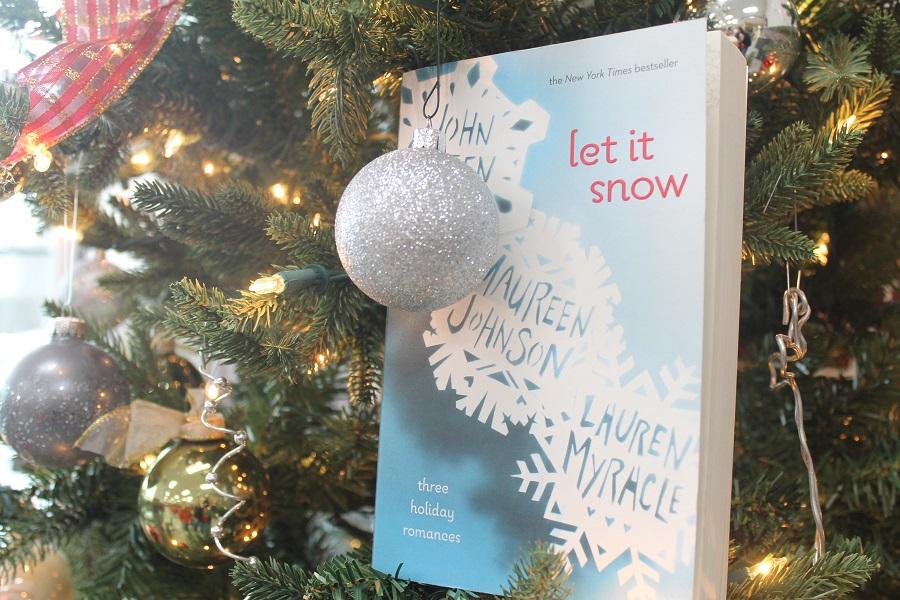 Curl up and 'Let It Snow'
The spirit of Christmas is in the air. Even though there are many Christmas movies to watch, there are also incredible books to read during this jolly time of the year. One book that is interesting to read, and doesn't get enough recognition, is Let It Snow.
Three top-selling authors, John Green, Maureen Johnson, and Lauren Myracle, teamed up to make the perfect Christmas book. The book is divided into three little stories, one written by each author: "The Jubilee Express," "A Cheertastic Christmas Miracle,"and "The Patron Saint of Pigs."
Even though they're different stories, the stories all take place in the same small town in North Carolina. One girl ventures off with an adorable stranger, three friends try to win a race to the Waffle House in the middle of a blizzard, and another girl struggles to deal with a breakup just before Christmas.
The first story is "The Jubilee Express," which was written by Maureen Johnson. Jubilee Dougal is on a train to go to her grandparents' house after her parents get arrested for participating in a riot over a set of miniature houses called Flobie Santa Village. Things took a turn after the train gets stuck in a snowstorm on Christmas Eve.
She meets Jeb, who is trying to contact his girlfriend back home. When all of the passengers go to the local Waffle House, Jubilee is extremely annoyed because there is a group of cheerleaders who are screaming in the small restaurant. While at the restaurant, she meets a guy her age named Stuart who invites her to spend Christmas with him and his family since her train was stuck for a few days.
While at Stuart's house, she tries to call her boyfriend Noah, who had not contacted her all night. He finally answers and Jubilee confronted him, which leads to them breaking up. Stunned by all that happened, she tries to sneak away only to be found by Stuart. She then realizes that Noah wasn't the perfect boyfriend but Stuart was.
The next story is "A Cheertastic Christmas," written by John Green. Tobin, Duke (a tomboy), and JP are stuck at home watching movies while Tobin's parents are away. They suddenly get a phone call from their friend Keun, a worker at the Waffle House, who tells them that a group of cheerleaders were at the Waffle House practicing their cheers and requesting to play Twister. The only problem is that there was a blizzard outside and it would be a very difficult drive in Tobin's mom's van.
On the way to the restaurant, they crash and lose a tire so they decide to walk the rest of the way. After running into the twins, Timmy and Tommy, and having a race to the Waffle House, they finally make it inside. They meet Jeb, who is still trying to get in touch with his girlfriend. Tobin is finally able to talk to a cheerleader, only to find that Duke was missing.
In the last story, "The Patron of Saint Pigs," by Lauren Myracle, Addie had recently broken up with her boyfriend, Jeb. While they were dating, Addie tried to change Jeb, which made them argue constantly. They eventually broke up.
Jeb was very upset and took a train to see his family, unaware that Addie had sent an email apologizing and telling him she hoped to work things out. When he did not respond, Addie thought the relationship was over so she cut her hair short and dyed her hair pink. She needed a change. She calls her friends over thinking they would comfort her, but instead, her friends were honest and told her she was self-absorbed. She does not agree on what her friends say. She then tells her friends that she will buy her Tegan's teacup pig while she is on break from work at Starbucks.
The next morning at work, Addie ends up getting caught in conversation with a woman who claims to be a "Christmas angel" and says that people forget to do things for others when they get wrapped up in themselves. This makes her forget to pick up the pig, who has been adopted by someone else. Addie contacts the person who adopted the pig and realizes it was the woman she was associating with earlier. The woman states that she took the pig simply to teach Addie a lesson.
Addie returns to the store and encounters Jubilee, Stuart, Tobin, and Angie, all from the previous stories. Tobin recognizes Addie's name on her nametag and tells her that Jeb has a special message for her. After hearing the news, Addie was relieved and ironically, Jeb shows up in the store just moments later. Jeb tells her about his train ride and how he has constantly tried to call her. Jubilee realizes that their lives have been drawn together and how it had changed everything for the better.
This book is definitely worth the read, especially during Christmas time. It invokes feelings of love, humor, and happiness. I highly recommend Let It Snow.