Gifts and treats you can easily make for Valentine's Day
It's Tuesday morning, you're already overwhelmed with schoolwork, and then you realize tomorrow is Valentine's Day. You have procrastinated once again, and you have no idea what to buy your significant other. Yes, you could find something laying around your room and try to make it into a decent gift, or you could try one of these last minute DIYs to make your Valentine's Day quick and easy.
Candy message poster:
Start with a poster board of your choice then write a saying for your valentine, which includes words that can be replaced with candy. Copy the saying onto the poster and fill in the certain words with the treats you chose. After you finish putting together your candy message, you'll have a sweet surprise for your sweetheart!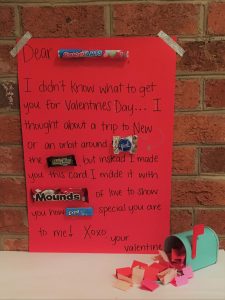 Love letter mailbox:
To start off, cut pieces of paper into a size that you would like. Write sweet quotes or phrases on the pieces of paper. You can even write your favorite memories with the person. Fold these piece of paper up and place them in a jar or miniature mailbox. This is a thoughtful gift that anybody would love.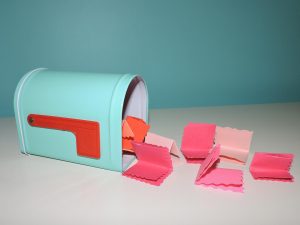 Maybe homemade gifts aren't your thing or you would rather want to add a tasty treat to your Valentine's Day surprise. Whether you are enjoying your Valentine's Day at home, going to a party, or spending it with your valentine, these are some quick and easy treats you can make:
Festive red-velvet milkshake
2 cups vanilla ice cream
1 ½ cups milk
½ tsp vanilla extract
4 tbsp red velvet cake mix powder
Whipped cream
Valentines sprinkles
Add ice cream, milk, and vanilla extract into blender. Blend until all of those ingredients are combined. After those are blended, add red velvet cake mix powder and blend again until completely combined. Pour into a cup and add whipped cream and sprinkles. Add a fun straw and enjoy.
Heart-shaped mini pizzas
Pre-made pizza crust
Cheese
Pizza sauce
Olive oil
Mini pepperoni
Heart-shaped cookie cutter
Use cookie cutter to cut out hearts from the pizza crust. Lightly brush olive oil over the crust and  apply pizza sauce onto each cutout. Add your favorite type of cheese and the mini pepperonis. You can also add any other desired ingredients. Bake following the directions on your pizza crust.
Valentine's day bark
2 cups milk chocolate chips
3 cups white chocolate chips
Different valentine's candy and sprinkles
Red food coloring
Melt milk chocolate chips and spread onto a parchment paper lined cookie sheet. Refrigerate  for 20 minutes. Melt white chocolate and add red food coloring to 2 cups of it and leave the remaining cup white. Spread both onto the hardened milk chocolate and use a fork to swirl the colors together. Add the candy and sprinkles onto the top of the bark. Refrigerate until completely hardened. After removing from the fridge, break apart the bark and enjoy.