Holt sets students on path to success
Hang on for a minute...we're trying to find some more stories you might like.
In 2013, Keri Holt was a senior at Gretna High School and committed to the University of Virginia as a first-generation college student. One bachelor's degree later, and she is back in the Pittsylvania County School system, but this time, she is the one helping seniors.
Ms. Keri Holt is Tunstall and Dan River's college adviser. She is part of a 2-year program through UVA and AmeriCorps where she gets to work with high school seniors to prepare them for college.
A normal work day for Holt includes assisting with college applications, writing letter of recommendations, researching scholarships, filling out fee waiver requests, having one-on-one meeting with seniors, and any other thing that can be labeled as "needed for college."
Her favorite part of being a college adviser is just being able to support and equip students as they go through the college process. She also feels that at the age of 22-years-old, she can better relate to students.
"I love working with students. Getting to be one-on-one with them is my favorite part. Students are hearing back about college admission decisions currently. It's exciting because I love to hear where they are going," she said.
When Holt says she enjoys communicating with her students, she is not joking. Not only does she use the Remind App, but she also is available through email, in-office appointments, and even through text messaging.
Holt gives her personal cell number out to seniors and is willing to answer their questions even after the normal 8-3 school day. She is a truly dedicated worker, evident by how responsive she is to students' questions and comments.
"Remind, email, texting- they've come in clutch," Holt said.
Currently, Holt is busy planning decision day for seniors, which will be in late April.
Decision day will be during fourth period and there will be games, food, and desserts. She is taking suggestions through email for all of these things, and has distributed a survey to get a better understanding of what the Class of 2018 would like to have.
"I want it to be y'all's decision day," she said.
Along with planning for the rest of the semester, Holt is also preparing for next year. She hopes to form an alumni panel, which will include teachers and former Trojans who will answer current seniors' questions and give them advice. This is just one of the many things she hopes to implement for the 2018-19 school year.
While working with students to get them to college, Holt is a college student herself.
She graduated from UVA last May with a Bachelor's in Psychology, but her educational aspirations did not stop there. She is currently taking online classes through Old Dominion University to get her Bachelor's in Computer Science.
Although she is doing well with her online classes, she says she misses all the activity that goes on at college campuses. She said there was always something to do at UVA and in Charlottesville.
"Time does fly. Take advantage of your college experience," said Holt.
When asked to give seniors advice about college, she said that the first year of college takes a little getting used to, but it is not scary. She also said to get involved as much as possible.
"If your club's not there, create it. Initiate it," said Holt.
She also advised underclassmen to keep a challenging course load because college admissions counselors look for this in applications.
"It's the number one thing they are looking for now. Challenge yourself. It looks better," she said.
Also, she emphasized that students should take their SATs and ACTs as juniors before senior year comes around and it is time to submit scores for college applications.
"You are limited in your second semester of senior year, so take that SAT [early]," said Holt.
While in Charlottesville, she fell in love with living in a bigger city and is considering moving to Richmond in the future. For now, however, she is content in Pittsylvania County.
"Coming back from a bigger city, you see the appeal of a small town and community. It gives a new perspective working in the school systems as opposed to being a student. It's a different dynamic," Holt said.
Outside of being a college adviser and a student, Holt loves hiking, being on the go, and watching Netflix…in other words, she likes do everything but sit still.
When asked what she likes to watch on Netflix, she said, "Everything. Grey's Anatomy, Lost…you name it."
Holt also recently signed the papers to adopt a cat, so soon she'll be "cuddling with her furbaby."
In addition, Holt loves to read young adults book, such as The Outlanders and The Magician series. Holt also mentioned that her favorite story as a child and in her adult life is Peter Pan. This story has inspired one of her eight tattoos.
"I still refuse to grow up," said Holt.
Looking ahead, Holt looks forward to getting to continue to help seniors while finding ways to be even more helpful at the same time. The biggest challenge for her as a college adviser thus far is managing her time between Tunstall and Dan River.
Combined, she works with nearly 500 students and can only be at Tunstall on Tuesdays and Thursdays, and during third and fourth block on Fridays. The other days, she is at Dan River working with their seniors.
Holt will have one more year of being a college adviser at THS before moving on to new things. While here, she is enjoying her time and feels as if her job is a "way to give back" to her community.
Holt is always willing to help and can be contacted in several ways. She even has her own business cards, now.
"I was given business cards the other day. I feel all fancy," she said.
If students cannot find a time to see Holt during the day, they can email her at [email protected].
"If you have no clue [about college], come find me. I meet you guys wherever you are. We can fall apart together," said Holt.

About the Contributors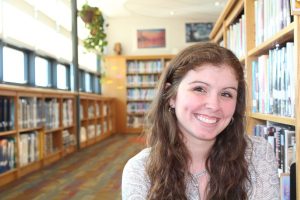 Anna Catherine Kueng, Editor-in-Chief
Anna Catherine is a senior and this is her fourth year on the Trojan Messenger staff. It may appear, at times, because she is often editing articles,...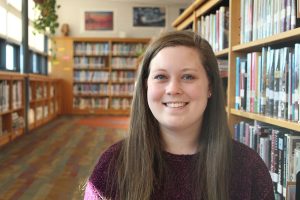 Taylor Astin, Photography Editor
Taylor Astin is a senior at Tunstall High School and this is her second year on the Trojan Messenger staff. After high school, she plans to major in radiology...