'I Don't Know How But They Found Me' shows promise with astonishing new EP
Although rather new to the scene and still quite small, I Don't Know How But They Found Me has released a new EP, one that brings forth new and inventive sounds.
The two-man band, led by former Panic! at the Disco bassist Dallon Weekes, began releasing singles back in August of 2017, before finally releasing their six song EP on Nov. 9. The EP opens with a track titled "Introduction," which does just that. It introduces us to both the band and the record label with narration that is robotic in tune and a simple music pattern in the background.
From there, the EP moves into "Choke," a track with a good windup that sort of warms the listener up before completely delving in as soon as the chorus hits. Although more upbeat as far as tune is concerned, the lyrics are much more biting, a norm for IDKHow that the listener will soon be acquainted with.
"Social Climb," the third track, is entirely different in sound than anything else on the EP. As synths and drums break in the song, Weekes shows off just how much range he has with his vocals. Catchy lyrics, subtle backing vocals, and a stellar brass section is what really sets this track apart.
"Social Climb" transitions perfectly into "Bleed Magic", a song that shows off how excellent the band's bass lines truly are. Paired with beautiful instrumentation and illustrative lyrics, this song is one that is certain to get stuck in the listener's head.
The band's excellent mix of sounds is only widened with "Absinthe", a grungy stomp and clap jam that is almost guaranteed to get anybody on their feet and moving to the beat of this track. Weekes' powerful voice and lyrics demand the listener's attention, and are the stars of this track.
The EP ends on a lighter note with "Do It All The Time", a more pop centered song that shows off just how versatile IDKHow is. The steady flow and beat of this track serves as the perfect ending for 1981 Extended Play.
Although small, I Don't Know How But They Found Me shows plenty of promise with this EP. Its sound is certainly well rounded, and can appeal to all types of listeners. From the lyrics to the beats on the tracks, 1981 Extended Play serves as the perfect starter for the band's career.
Leave a Comment
About the Contributor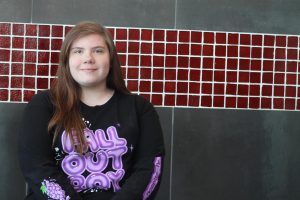 Lexie Wilmoth, Reporter
Lexie Wilmoth is a junior at Tunstall High School. This is her first year with the Trojan Messenger staff. She enjoys listening to music, drawing, and...