Mesano on the move
Hang on for a minute...we're trying to find some more stories you might like.
          Nathan Mesano seems to be just another teenager going through his years in high school. Seeing him walking through the halls, he's usually making conversation with friends on his way to class while often wearing his signature flannel. But what most of his peers and teachers don't know is that he comes from a military family and has moved multiple times across the U.S. 
Mesano is originally from out west in Colorado. From there he has moved six times all across different parts of the U.S. He has moved to and from Grand Junction, Colorado; El Paso, Texas; Sacramento, California; and Fairbanks, Alaska. Coming from someone who hasn't lived here their whole life, "Virginia is very humid compared to the other places I've lived," said Mesano. 
Every different school that Mesano attended was different than the last. For example, in Fairbanks, AK, the students were allowed to BYOD (bring your own device) to school as long as it was only used with a teacher's permission. And in El Paso, TX, the school he attended had a program that allowed the students to participate in solving set up crimes like real investigators. 
Mesano thinks of THS as being one of the top schools he has attended. He believes this because some of the other schools' he has attended has been more about disciplining the students rather than teaching them.  Nathan wishes to stay for the remainder of his high school career and graduate from Tunstall. 
 After high school Mesano plans to go to college and study criminology. Following college he hopes to follow in his father's footsteps and joining the U.S. military. "My dad has been in service with the U.S. Army for 11 years and even though it makes life a little different for me, I wouldn't change anything about my life," said Mesano.
About the Writer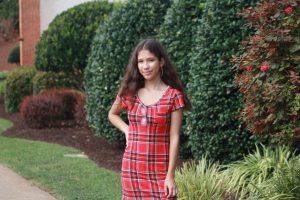 Brittney Eames-Ramirez, Photography Editor
Brittney Eames-Ramirez is a sophomore this year at Tunstall and a fresh face to the Trojan Messenger. Hoping to become a lawyer and an author, creative...