Private movie screenings for you and your valentine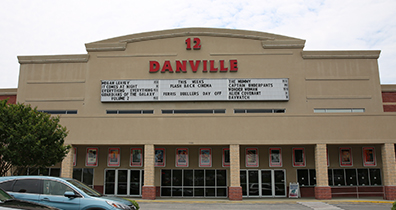 As we head into the "season of love," the Danville Cinema is hosting private screenings for up to 20 guests. After a prolonged closure, the Danville Cinema is offering a unique opportunity to see a movie with your closest friends and family while maintaining social distancing. 
To watch a classic movie, it is set at a cost of $100 which works out to $5 per person if 20 people attend. This allows the guest to choose a movie such as "Raiders of the Lost Ark," "Goonies," The Wizard of Oz," or "Back to the Future." Family cartoons are also available such as "Trolls," "Shrek," "Minions," "Secret Life of Pets," "Sing," "Dolittle," "The Muppets Movie," and "Kung Fu Panda."  
Danville Cinema is offering many different movie options for Valentine's Day including: "Crazy Rich Asians," "The Notebook," "Valentine's Day," "Love & Basketball," "P.S. I Love You," and "When Harry Met Sally." The cinema offers a wide variety of movies that every couple could enjoy. 
Another option is to watch new releases, which costs $200. The movies in this category are ones that have been released in the last year. These movies include "The Little Things" and "The Croods: A New Age."
To schedule a date for Valentine's Day or family fun night, all that has to be done is to email the Danville Cinema, list a desired date, and choose a movie from the list. Another option is to go on the Danville Cinema website and click "contact us," then choose a desired date and movie. Also, if there are more than 20 guests, each additional person will be charged a full price ticket.
The cinema does ask for no outside food and drinks to be brought into the cinema. Also, masks are required anywhere in the cinema, except the guest's seat. 
For more additional information, contact the Danville Cinema through their website and click on contact us or call the cinema at (434) 792-9885.