Thrifting the Littlefield way
Thrifting is a great way to get name brand clothes at a less expensive price tag. Many students at Tunstall thrift as a way to save money while still staying fashionable. Thrifting has gained a lot of popularity thanks to TikTok, Instagram, and Snapchat influencers posting their "thrift shop finds."
There are quite a few thrift shops in and around Danville that cater to children, teens and young adults, and older women and men. Goodwill, Plato's Closet, Style Encore, Salvation Army, and Habitat for Humanity are all thrift stores with a wide variety of items. 
"I've found the best deals at Salvation Army, but I prefer Goodwill because of the way it's set up and it's the closest to me," said senior Addy Littlefield.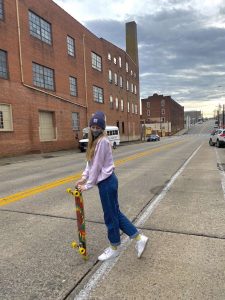 Many thrift stores aren't just for clothes. Like with Goodwill, there are home items, toys, and other cute knick knacks that were once owned and still have a story to tell. Littlefield has even bought her prom dress thrifted from Goodwill as a way to save money and give someone else's dress a second chance. 
Deciding what to buy from a thrift store can be a tricky experience. Finding the right size, style, and something in good condition can be troublesome, but usually, shoppers can find their diamond in the rough. "I try to think 'Would I wear this more than once? Will I wear this next month, too?'" said Littlefield. 
Thrifting has begun walking hand in hand with upcycling as many people learn to sew and make used clothes into their newest fashions. "I learned to sew during COVID so it's been nice to find things I can alter to fit me or change it into something completely new," said Littlefield. 
Saying no to an article of clothing is difficult, but sometimes the perfect item falls right into your hands. "Sometimes things are just cute and inexpensive so it's so hard to say no," says Littlefield.
Thrifting can be difficult to start, it all depends on the amount of thrift shops in your area, what they stock, and the type of neighborhood they are in. "My personal favorite is the [Goodwill] location off of 41 because it's near a few nicer neighborhoods so the items that get donated are typically nicer," says Littlefield. Spotlit in the "Students who balance it all: social life, school and work" article, she can be found working at Your Stuff consignment boutique on Piney Forest Rd. 
The art of thrift shopping is something that can be mastered with patience, skill, and a lot of time to spare.