TCE takes us back to Motown
The Tunstall Concert Ensemble competes in Dayton
Many of Tunstall's own students may not even know, but their school has a world class ensemble. The Tunstall Concert Ensemble, referred to as TCE, has been performing in the Winter Guard International association since 1996. They start practice in the month of December and continue practicing up until the month of April, where they then have to travel to Ohio to compete against the world. In April, groups from over the world compete in one of three different divisions.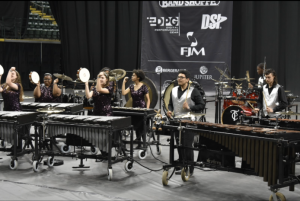 Those three divisions are the winds, percussion, or color guard. For all three of the divisions, there are different classes they can fall into. 'A Class' which is the class dedicated to beginner level groups, 'Open Class' which is for intermediate level groups, and 'World Class' which is for the most advanced groups. TCE competes in the concert world class level. In the percussion groups, there are different division subtypes they can fall into, independent, scholastic, and concert. In the concert class, groups do not have marchers on the floor, unlike in the independent and scholastic classes.
This season, TCE played a show like no other. Other groups would play shows that were more classical and posh, but this year, TCE produced a show centered around Motown music. In this year's show, Motown Madness, they played 'I Heard it Through the Grapevine', 'My Girl', 'Sir Duke', and 'Dancing in the Streets'.Each song had become popular because nobody had ever produced anything like the Motown style before. Although the rhythms from each song are easy to pick out, TCE put their little musical twist in each portion of the show, as they always do. 
Director Tim Bray chose such a unique theme because nobody else had done it before. He wanted to be different. All of the other groups would perform pieces that were very dramatic, striking, and soft. But Bray didn't want that this year, not this season.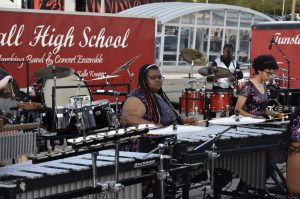 The group, led by directors Mr. Tim Bray and Ms. Kellie Harlow, consisted of 17 students: five vibraphones, four marimbas, two synthesizer keyboards, three percussionist/drummers, and one bass guitarist, glockenspiel and drum-set player. Four of these students were from the middle school, and one of the students was from Chatham High School. Chatham Senior Ciara Keen enjoyed her time spent at Tunstall with this ensemble.
"I am going to miss this wonderful opportunity I had. I cried after Friday night's performance because I had realized that it was all over. I wouldn't be able to see my friends every day anymore," Keen says. 
"One of my favorite memories is probably me playing the tambourine during the drum break. I also enjoyed making everyone laugh the whole week by randomly saying 'yeah boi'," Keen has been a part of this ensemble for two years. She first joined last season after another Chatham student invited her to join after his experience.
One of the middle school students that took part of this group is 7th grader Ava Moon. After a hesitant acceptance, she joined TCE for the first time. "Before [the performance], I was really scared and nervous. I was still scared during the show! But once I got to play my tambourine solo, I felt excitement and joy until it was all over," Moon says.
TCE puts in the effort to compete in this national competition. Most groups have members that know their instruments and have been playing them for years. TCE puts in the work and has members competing with the best in the world that are just starting to learn their instrument. Each student's work ethic is strong; they practice around 25 hours a week to reach this high level.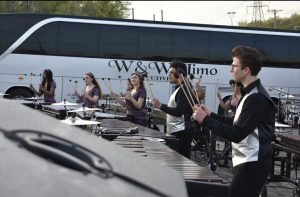 What makes competing at this level so challenging is the performance. Every group only gets two chances: preliminary and final. These groups are judged on the highest standards. They are judged from the biggest thing, the music they play, to the smallest thing, the angle and height of a stick. These ensembles are judged on the spot. If the mess up, there is no start over; the show must go on. If one performer accidentally plays something wrong, the score is affected immediately. Despite their failed attempt to receive a medal this year, the students put in the work and effort to perform a great show.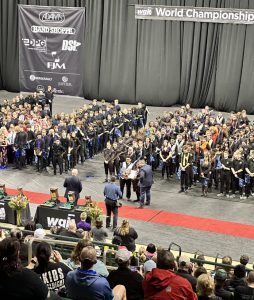 TCE placed 5th out of 5 World Class groups. The group had the most improvement out    of all five groups, raising their score by 2 points. Their prelims performance score was an 84.300 and their finals performance was an 86.100. Both performances were filled with high energy, excitement, and tears of joy.
"Although we ran into multiple struggles, I feel extremely proud with the growth in the kids. I was sad after the show when I realized that it was all over. One of my favorite memories was getting to watch the students play and perform so musically. I had once been in this ensemble. Seeing them practice and perform brought me joy," band director Ms. Harlow states.
The TCE season and band season has come to an end. Students are eager to see what challenges they will be faced with this summer and in the fall. 
"Oh I already have a plan for next year! I am 90% sure of what the show will be next year. It'll be something different that we haven't done before," said Director Tim Bray.
Anyone with musical interest may join this ensemble. There will be many openings in this group and other band activities this upcoming fall. Please contact Mrs. Harlow in room C102 for more information or Mr. Tim Bray in room A210.