Dig Pink game held to raise money for cancer research
Hang on for a minute...we're trying to find some more stories you might like.
On Saturday, October 20, eight Tunstall volleyball alumni played against the JV team with a few varsity players and dad's of players mixed in for a charity event to benefit the American Cancer Society branch in Danville.  
The event was held in honor of former coach and Tunstall Sports Hall of Fame member Jackie Hardy who died from cancer nearly two years ago. Donations were taken at the door and concessions were sold. The alumni team won all three games (25-21, 25-18, and 25-8) with quite a bit of help from the varsity players who were refereeing.
"It is always nice to have a reason to bring the alums back. All of them played for Coach Hardy," said Coach Matt Beard.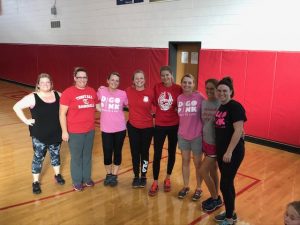 Three sets of sisters played in the event. Mindy Knick Marsh was a setter who graduated in 1999. Her little sister, Hollie Knick Dodd, graduated in 2002.
"Mr. Hardy taught us everything that we know about volleyball took us to camp at Liberty University, and treated us like family members," said Marsh.
"Tunstall volleyball means so much to me. I remember going to camps for volleyball when I was younger with Coach Hardy. I remember so many little things, like whenever we got new uniforms, Mr. Hardy would give us the old ones to keep," said Dodd.
Adrian Turner Nester was the only faculty member who played for the alumni. She graduated in 1997 and played and coached with Mr. Hardy. "I love having a reason to see my former teammates. I either played with or coached everyone here today. Mr. Hardy has a profound impact on my life, and I love having any opportunity to honor him," said Nester.
"It is also fun playing with my sister. She was in 8th grade when I was a senior, so we were never on the court for a game," said Nester.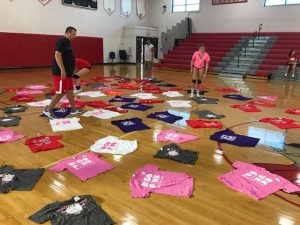 Nester's sister, Rachel Turner McKinney, graduated in 2001. "I played today because the proceeds were going to charity in Mr. Hardy's name. We may not have played as good as we once did, but it was fun showing my kids that Mama can still hit a volleyball," said McKinney.  
The alumni team was rounded out with Jessi Moss Glasscock, Ann Hope White, Jayme Elliott Howell, and Courtney Elliott White. All of these alumni are still involved with local volleyball in some capacity by coaching recreational or travel league volleyball.
Alumni events for additional sports are currently in the planning phase.
Contributed by Adrian Nester
Contributed by Adrian Nester