Analyzing the 10-point grading scale
Hang on for a minute...we're trying to find some more stories you might like.
All students are different, but if there's one thing we can all relate to, it's worrying about our grades. Every student has had a moment where they have been so stressed about keeping their GPA up that it's all they can think about. Whether it's to get into that really amazing college, to please overbearing parents, or just to satisfy a personal desire for success, most students are always very concerned with their progress in class.
This stress has been mitigated slightly by the introduction of a 10-point grading scale, used in most colleges, to many educational centers across America. On this scale, any grade from a 90 to a 100 is accepted as an A. Districts such as Prince George County and Hanover County have recently made the switch in 2017, but not all areas have decided to follow, however, and one of them is our very own Pittsylvania County Schools.
Many districts in Virginia use this 10-point scale, yet for whatever the reason, PCS still wishes to cling to old-fashioned methods, using a scale where anything from a 94 to a 100 is an A.
Recently, however, PCS has considered jumping ship to the 10-point system, and is currently negotiating the possibility. Whether the change will happen or not is yet to be seen, but I believe that the current grading scale is a very outdated way of doing things. While it may make students work harder, it also has the side-effect of inflicting way too much pressure on them and barely giving any room for error.
But, along with the multitude of other problems with the American education system, this outdated grading scale seems designed to make students too scared of making any mistakes at all, which can very negatively impact of people's psyches.
Simply put, changing the scale would greatly help students not to stress out so much and just enjoy life more, which all teens should strive to do, because childhood doesn't last forever.
Another problem is that it doesn't seem fair that a person can make a perfectly well-deserved B if they score an 85 on an assignment in one part of the state, while in a county with a different grading system, that same student would be granted a C and have a mark of shame on their report card. Changing the system would allow PCS to fairly compete with other districts, and might also take away the possible image of being too strict to anyone interested in learning here.
With many subjects, a student won't even use them at all in their careers, so it really doesn't make sense that schools should have every single class be graded so harshly. Think about it, if a student is going for a career related to English but flunks their Pre-Calculus course, is that really such an awful thing? It doesn't matter if the student studied all night until their eyes were in pain or just naturally isn't the best in a certain subject, the school system wants us to strive for perfection in absolutely everything, and anyone who isn't an automatic expert is severely punished. A 10-point scale would give teens a lot more room for error in fields they aren't as skilled at/interested in, but still not giving so much of a handicap that it'll make them not try as hard.
I talked to three people who all have varying opinions on this topic. The first is senior Mary Catherine Jones, who attends to Governor's School.
"I think the other grading scale is dumb," commented Mary Catherine. "Colleges don't do it, and we have a 10-point scale at Gov School. I think all AP and dual enrollment classes should be 10-point as well, and if we were on the same scale as the rest of the county, we could compare scores and GPAs easier."
The next person is Jennifer Watson, a history teacher at Tunstall who also feels very strongly about switching over to a 10-point scale.
"I like the idea of switching because it would move us closer to colleges," said Watson, "but the rigor of our work would need to change to match the new scale. A 10-point scale would give more availability to pass things, and it would make us more equal to other schools in the state, because right now we're requiring a lot more from students. I also think it would encourage students to take more AP classes, because when kids take an AP History class, they're graded a lot harder than if they had just waited to take it in college."
The last person I collected opinions from was Kathryn Forney, an 8th grade Mathematics teacher at Dan River Middle School, who is a little more mixed on the subject.
"The 10-point scale would help us compare to other schools in the state," said Mrs. Forney. "It's a bit unfair that in some places you could get a 90 and make an A, but here that would be a B. Although, changing the scale would alter GPAs a bit. It might benefit lower students more than higher students, but some kids might not work as hard. This could affect how students do on SOLs, as the standards would be a bit higher there. I think it's a good change for AP classes, as they're more like a college class."
I sincerely hope that PCS will, at the very least, give the 10-point grading scale a chance, as a lot of students would greatly benefit from the added leniency. Even though the new scale might have some minor holes in it, the good definitely outweighs the bad, and there are certainly a lot more pros to it than our current grading system.
I eagerly await what choice the school board will make, and I'm hopeful that whatever decision they make will help us all have the best education possible.

About the Writer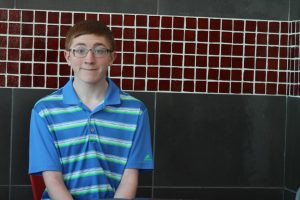 Carter Mills, Reporter
Carter Mills is a junior and a newbie to the Trojan Messenger staff. While not the biggest fan of athletic activities, he enjoys golfing with his dad in...