JV football kicking off another year
Hang on for a minute...we're trying to find some more stories you might like.
The THS JV football team has kicked off another year on the field. The Trojans are led by Head Coach/Defensive Coordinator Charles Fulcher, Offensive Coordinator Chesley Graves, Offensive Line Coach Tanner Bray, Assistant Coach Fletcher Hardy, and Assistant Coach Seth Alverson. The young core consists of 8 eighth graders, 14 freshmen, and 9 sophomores. 
The Trojans are in a rebuilding stage as they bring in an almost entirely new coaching staff and team. Even with this some of the younger players have stepped up and taken leadership roles. Captains for the first game were freshman Evan Burnett, freshman Trey Collins, freshman Cody Rice, and sophomore Zac Porter. 
The JV Trojans have gotten off to a rough start and are sitting at a record of 0-4. The boys lost their opening game to Dan River 34-12. The Trojans fell behind early in the first quarter 20-0 and they could not battle back despite a valiant effort in the second half. 
When the Trojans took the field against Gretna for game number two they started the scoring late in the first quarter taking a 7-0 lead after a 2 yard run from Ryan Jones. The Hawks shut them down for the rest of the night, though, as they defeated the Trojans 32-7. 
In their third game of the season against the Chatham Cavaliers the Trojans once again took an early lead as they ended the first quarter leading 6-0. However, Chatham got the offense rolling and did not stop as they defeated the Trojans 22-6. 
Head Coach Charles Fulcher is still hopeful for this season to turn in the right direction. "Everyday needs to bring a new focus. Everybody needs to stay on task and be pumped up. You can't really fuss at them you just have to keep pushing forward and keep your head up." 
In their most recent contest, the Trojans took on the Eagles of George Washington-Danville. The Trojans got down early and could not muster a comeback as they fell 33-7. This loss put them in a tough spot at 0-4 on the season. 
The JV Trojans are back on the road next Thursday, October 3 at Magna Vista. Kickoff will be at 6 P.M. 
About the Writer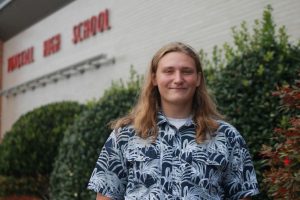 Peyton McBride, Sports Editor
Peyton McBride is a senior this year. He is a member of the football team and is in several clubs at THS. He enjoys watching movies, playing sports, and...