THS adds new vape detectors
Vaping, the fairly new and alternative way to smoking, has slowly started to become more and more mainstream. Whether it be through people posting about it on social media platforms, such as TikTok and Instagram, to it coming up casually in conversation, vaping is talked about everywhere. The American Cancer Society states that the use of these products has increased due to these e-cigarettes containing more nicotine and also because of clever marketing tactics to draw in people. Although vaping was intended for adults, it has started to make its way to young teenagers.
Students from THS haven't been excluded from the large wave of kids who vape. Assistant principals Ms. Totten and Mr. Echols state that, "It's been a significant issue for a while now." Because of the noticeable increase of vaping in the school, the staff of Tunstall has started to take action to stop them from vaping. The first action that the staff has taken is implementing new vape detectors in the school's bathrooms.
What is vaping and why is it bad?
Invented in 2003 by Chinese pharmacist Hon Lik, vaping is when an electronic cigarette (or a vape as it is more commonly known) heats up a liquid to create a vapor that is intended to be inhaled. Usually the liquid that is heated up contains nicotine, flavoring, and plenty of flavors. The vape was invented to serve as an alternative to smoking.
According to the American Cancer Society, there are many side-effects to smoking an e-cigarette. Although they haven't been around long enough to see what life-long effects they may have, what we do know is that e-cigarettes can still cause harm because they contain tobacco products. Some of these effects are as follows:
Irritation to the lungs
Addiction to nicotine
Serious lung diseases (symptoms are coughing, trouble breathing, chest pains, nausea, vomiting, diarrhea, fatigue, or weight loss)
Some people who have vaped and experienced the listed symptoms above have required hospitalization, while some people have passed away. Many of the people who have had illnesses with the symptoms above have been reported using tobacco products such as e-cigarettes and/or regular cigarettes.
Another association, the Mayo Clinic, states some other side effects of vaping. Side effects such as trouble sleeping, change in emotion, and the development of the brain. Another problem also stated by the Mayo Clinic is that the nicotine in vapes is addictive, and it may even be harder to quit a nicotine addiction rather than a heroin addiction.
For more information about e-cigarettes, health effects of vaping, and tobacco products, you can search online about the American Cancer Society, the Mayo Clinic, or visit the website cancer.org
The new vape detectors and how they work
Recently after being informed by the school board, THS has implemented new vape detectors in all of the boys and girls bathrooms. The way they work is that when a student vapes in any of the bathrooms, the detectors sense the vapor in the air and, like a silent fire alarm, sends a signal to the administration.
Sophomore Denver Dalton believes the detectors are, "…interesting. Not in a bad way, but I think it's crazy technology and it's very advanced for our school."
Some students believe that these detectors will be useful. Sophomore Karmen Guinn states how she thinks vaping is bad for others. "Some people have asthma and can't be near the smoke, and it can make some people nauseated from the smell. It can be unfocusing."
With the negative effects that come from both ingesting and inhaling the vapor, hopefully the realization will set in to the students and they will take into account the effects and acknowledge the detectors. As time progresses, the purpose of the detectors will deter Pittsylvania County students from vaping both on and off campus.
Leave a Comment
Donate to Trojan Messenger
Your donation will support the student journalists of Tunstall High School. Your contribution will allow us to purchase equipment and cover our annual website hosting costs.
About the Contributor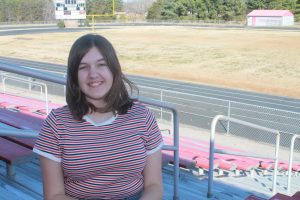 Maycie Petrushak, A&E Editor
Maycie Petrushak is a junior at Tunstall High School, and this is her first year on the Trojan Messenger staff. After school, she enjoys her time making...