Former Trojan makes debut
The season had come to an end for the Erie Seawolves, the Detroit Tigers Double AA affiliate, and Joe Mantiply (Class of '09) had his car packed and was ready to leave. As Mantiply prepared for the trip from Erie, Pennsylvania to his hometown of Danville, Virginia, he received the call that he thought he would never get this season: the call to the major leagues.
Major League Baseball allowed teams to expanded to the 40-man roster on September 1st. Two days later, the Tigers bought Mantiply's contract from the Seawolves, making it official that he was with the big league team.
"I wasn't prepared at all." said Mantiply "It was a shock."
On the same day of his call-up, Mantiply pitched in the bottom of the eighth with the Tigers down 5-2. He faced Sam Dyson of the Royals with two outs and a runner on second. Mantiply threw two pitches in relief and got Dyson to pop out to right center.
Mantiply had an above-average season in the minor leagues. Between Erie and Triple A Toledo, Mantiply had a ERA (Earn Run Average) of 2.73. Although he only had seven appearances for Toledo, Mantiply pitched 59 1/3 innings with 69 strikeouts with Erie. He also had a WHIP (which is walks plus hits divided by innings pitched) of 1.06, which is very respectful for a relief pitcher.
After his first appearance, Mantiply posted on his Instagram saying, "I cant put into words how amazing of an experience the last few days has been. I am so grateful for the opportunity the Tigers have presented me with. I would never be in the position I'm in without the love and support of my friends and family. Last night was a moment I will cherish for the rest of my life."
During his baseball days at Tunstall, Mantiply went 33-2 with a 1.00 ERA. He had 358 strikeouts and pitched 238 innings in all four years. His senior year, Mantiply went 11-1 and had a .388 batting average with three home runs and 44 RBI's. He was also named Piedmont District Player of the Year. His sophomore year and junior year combined, he went 18-1 with a 1.67 ERA with 206 strikeouts.
Mantiply is second Tunstall alumni to reach the major league level. Eric Owens (Class of '90), who is the current assistant hitting coach of the Toronto Blue Jays, was the first Trojan to reach the big leagues after he made his debut in '95.
About the Writer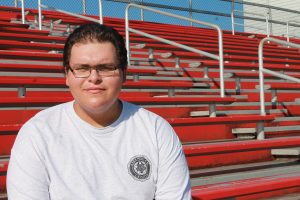 Brian Cendejas, Sports Editor
Brian Cendejas is a senior at Tunstall High School and this is his third year on the Trojan Messenger staff. Outside of school, Brian is also a sports...