Rachel Hayes dances for Disney
Hang on for a minute...we're trying to find some more stories you might like.
Rachel Hayes, a THS alumna, is beginning her junior year at James Madison University. Hayes is currently majoring in the dance program.
Rachel has always had big dreams, but one of her biggest, by far, has been to work at Disney World. She applied to the Disney college program, which is where she will be working in the stores and possibly taking classes, for the spring semester of 2019 on August 27, 2018 and was accepted September 5, 2018.
"Disney has until November 16 to let you know, so it was really a waiting game. I got really lucky finding out early," said Hayes.
Going through the basic application process, it is required that he or she be a college student. While applying, Hayes had to fill out her personal information and even have an over the phone interview. "Some students had to have a web-based interview, I was glad I was not one of them," said Hayes.
Once she was accepted, she had to link up with someone on Facebook who was accepted for the same semester as she had. The point of the Facebook chat is so Hayes could find someone with similar interests to possibly be her roommate at Disney. The college program advises this because she will be living with someone she barely knows from January 14 to May 16, 2019.
"Disney provides housing, but you do have to pay rent. They usually just take it right out of your check, so that what you get paid is yours to keep," said Hayes
"Even though I will be there the whole semester, I may try to extend through the summer."
Hayes will be working in merchandise while attending the program. Usually workers either work inside the stores or right outside selling some of the smaller items. While working, taking classes are optional such as: Disney Heritage or Disney History.
"Working there can be considered studying abroad or an internship. But, you may have to withdraw from your school depending on how they approve it."
A major reason Rachel has chosen to go to Disney College is so that working there can be a potential career choice in her future. She auditioned to dance in Disney on Sept. 24, 2018. If she makes it, she will either be able to dance or be friends with some of the characters.
"Belle is my favorite princess, but I'm too tall to be friends with her. So I'd have to be friends with one of the villains."
Rachel has a more confident sense of nature, so going from Virginia to Florida for a whole semester will be an adventure for her. Not only will she be able to continue dancing, but she will get to be introduced to new customs and people.
"It's gonna be really cool to see if I like it or not."

About the Writer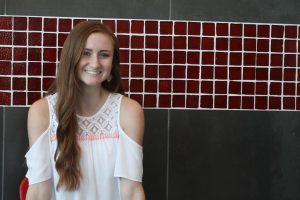 Faith Snead, Reporter
Faith Snead is a senior and this is her first year on the Trojan Messenger staff. She is involved in the Interact, Beta, SCA, and FCA clubs. She is also...