To Chrome or not to Chrome… Book
On the week of Tuesday, Nov. 1, THS students received their new school-distributed chromebooks. These new additions allow students to complete their work from home, as well as creating a new way of learning in the classroom.
The teachers of THS have many different opinions on the implementation of the chromebooks. A teacher who is pleased with this new addition is science teacher Mrs. Elizabeth Kirby.
"I think a lot of the negative feelings that students have about receiving the chromebooks are coming from a matter of them feeling like it is an inconvenience for them. It's great that [some students] have the resources without the school giving it to them; however, for a large portion of the county they are unable to have those resources. I think if they took a step back and thought about it, they would recognize it is a huge benefit to those who can't get the devices on their own," Kirby said.
Another teacher, Ms. Amy Scott, an English teacher, feels as though these new chromebooks create new ways for students to cheat.
"I definitely think that there is a place in education for chromebooks, but in general I really think they have been more of a distraction. It seems to be an avenue for cheating more than anything else. I feel as though students aren't trying to do the work themselves and that is an important skill to have. I believe that chromebooks take away from some of the actual learning that should be happening in schools," Scott said.
The librarian at THS, Mrs. Yeatts, is the leader in the distribution of the student chromebooks. From keeping tabs to who was insured and handling cracked screens, she is the woman in charge. Mrs. Yeatts uses two dashboard sites, one is called 1:1+ for those who are uninsured and one is called School Device Coverage for those who are insured.
1:1+ is accessible to everyone, not just school administrators. They help complete work orders and help when you have a mishap with your chromebook. School Device Coverage is strictly for school administrators and it is what she uses to help students with their chromebook issues.
If you are insured and your computer is broken here is what you can do to fix it. First, talk to Mrs. Yeatts. Give her your cracked device and she will log on to SDC and be able to see if you are insured or not. If you are, the parent or guardian who took out the insurance will file a claim on 1:1+. She will see if the claim has been approved and if it has you can check out a temporary chromebook through the library until yours is fixed.
If you are not insured you should still talk to Mrs. Yeatts. Once she receives the device, she again will ask your parents or guardian to put in a work order on 1:1+. A worker will come to the school to assess the damage and take it away. A price will be given to the parent or child and it will have to be paid before they receive the device back. During the time it is being fixed, they too can check a chromebook out through the library until it is fixed.
While everyone knows glass is fragile, some THS students received a cracked screen in more ways than just dropping it. Senior Alexis Robertson stored her chromebook in her car overnight on a freezing cold weekend. When she opened it at school the next day her screen was cracked and it got progressively worse throughout the day. The current price to repair a screen varies from $100 to $150.
"I was definitely worried about the cost of the repair. I was scared what teachers would think of the situation seeing as I was now without a chromebook. I felt like they would see me going back and forth to check one out at the library would be time consuming," Robertson said. 
Even though these chromebooks have many pros and cons, it gives students the opportunity to learn in a way they haven't before. Despite any ongoing discussions about implementation, the chromebooks are here to stay. 
Leave a Comment
Donate to Trojan Messenger
Your donation will support the student journalists of Tunstall High School. Your contribution will allow us to purchase equipment and cover our annual website hosting costs.
About the Contributor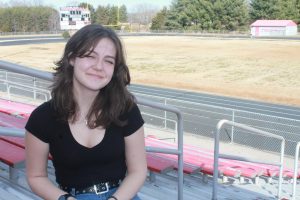 Sophia Barker, Co-Editor-in-Chief
Sophia is a senior at Tunstall High School, and this is her first year on the Trojan Messenger staff. Sophia loves writing whether it be stories, papers,...