Eat and play: Where good food comes with great fun
In most small towns, there is at least one place that everyone goes to have a good time. Whether it's a bowling alley, restaurant, or even a local lake or river, everyone always seems to flock to that specific place. These are four places that are loved by the many citizens of Danville, Virginia.
Grizzly's Hatchet House is located in downtown Danville near the Danville Science Center at 680 Lynn St Suite J, Danville, VA 24541. At Grizzly's, you can throw hatchets with your friends, play jumbo Jenga, checkers, and other board games. 
If you decide that you need a snack, Grizzly's has a food menu. They offer lodge-themed food, like wings. They also offer a variety of different soft drinks.
In order to enter the Grizzly's building, you must be at least 10 years old, as well as having parental supervision at all times. If you are 12-15, you need to have a parent or guardian present at all times. If you are 16-17, an adult needs to sign your waiver and must be present.
Grizzly's Hatchet House is a great place to go with your family or friends when you are looking for a place with good fun and lots of fun.
Funky's Arcade Bar is also located in the downtown area of Danville at 315 Lynn St Suite B, Danville, VA 24541. Funky's has arcade games, shuffleboard, air hockey, claw machines, and even a punching bag game where you can test how strong your punch is.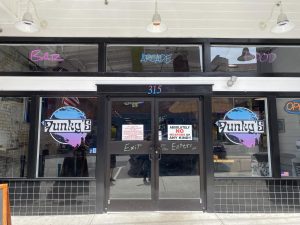 Funky's has a great food menu with options like pizza, wings, burgers, salads, and many different appetizer options. You can be any age to eat and play games at Funky's, but it is much more kid friendly during the day.
Funky's is a great place to go and hangout with your friends, grab a bite to eat, and play games.
Uptown Pinball is located in Martinsville, Virginia at 35 E Church St, Martinsville, VA 24112, only 40 minutes from Danville. While Uptown Pinball has a few modern arcade games, their main attraction is the loads of old pinball machines they have. You can play all day with a general admission fee of $15.
While they don't have a real menu, they do have a concession stand at Uptown Pinball. You can buy chips, candy, and drinks.
Apart from arcade games and pinball machines, Uptown Pinball also has an area with console games. Due to the rising popularity of console gaming, these areas at Uptown Pinball have become just as popular as the classic pinball machines.
Uptown Pinball is a great place to play games with your friends and family.
716 Wings is a restaurant beside SkateTown at 1055 Piney Forest Rd, Danville, VA 24540. 716 Wings is a rather new restaurant that specializes in wings, but they also make subs and wraps. They offer a variety of sauces and flavors for their wings. Some of these include mango habanero, BBQ, lemon pepper, and honey mustard.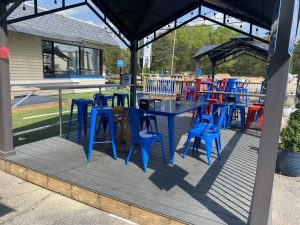 716 Wings has an outdoor patio where seating is offered as well as seating inside as well. Their outdoor seating consists of a beautifully lit wooden porch with fake grass on the ground. Their indoor seating is just as unique. Inside the building, they offer tables in separate rooms with their own TVs for watching sporting events.
716 Wings is a great place to go if you love finger food and fun.
While many people in Danville believe that there is nothing to do in town, these places have proved them wrong. These places are fairly new to Danville, so give them a try if you have the opportunity!