Tunstall and GW cheer teams unite during halftime performance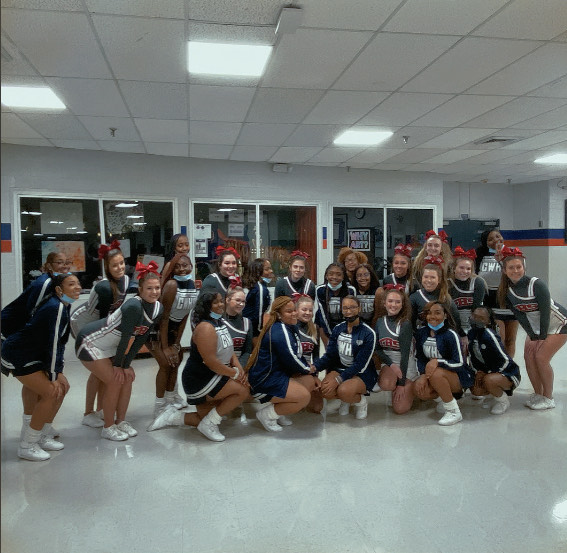 During Tunstall's boys basketball game against George Washington High School in the Piedmont District Tournament at Bassett, the cheerleaders united to do something very remarkable. Both schools' cheerleaders came together during halftime, which was a moment that put the competing aside and focused on the fondness and connection between the two schools. 
The unity between both teams started long before this past week. This began during Ms. Echols first year of coaching Tunstall's team, four years ago. Ms. Echols started cheerleading in high school at GW, so her bond with them has always been important to her. 
"Our coaches are really close," Tunstall cheerleader Caitlyn Jarrett said. 
"It's called a unity cheer and that's exactly why we do it… it's a bond with our cheer sisters from GW," Echols said.
The THS cheerleading team was able to get in contact with the GW cheerleaders and coach to figure out the cheers that they should perform. GW's cheerleading team was able to send a video that the THS cheerleaders could learn to perform at Bassett. Prior to halftime, both teams were able to come together to practice the cheer that they were getting ready to perform.
 "We practiced before the game," Jarrett said.
The cheerleaders were excited to be able to cheer alongside the opposing team's cheerleaders. Cheering with other teams has been limited due to Covid-19 traveling restrictions.
"It felt great getting to cheer with GW's cheerleaders! I think other girls cheering for their team, makes us cheer harder and motivates us even more as a whole," Elena Booth said.
Over the years of the tradition of Tunstall and George Washington High School, the cheerleaders who once saw each other as strong competition and intimidating, have grown to find themselves growing fond of each other and even making friends. 
Although the opposing teams look like they are in perfect sync with one another, Cheer Captain Tatalia Presonton stated, "It's hard to get the timing right considering both of our teams have two different styles of cheerleading." 
Both Tunstall and GW's cheerleading team have two different styles of cheering that makes the performance very different.
"In their halftime performance, the girls put in a different type of motion on one part to show the two different styles. Both teams have two different styles, but both teams did amazing," Echols said.
"It honestly pushes me to do better and be louder. I like to feed off of their energy, especially since I'm not used to cheering with them," Booth said.
"We met during the football games and they were really nice," Preston said.
Tunstall's cheer team is roaring to go to regionals. The seniors feel it's a fantastic way to close off their senior year.
"Regionals is a once in a lifetime thing, and I'm so glad I get to experience it before I graduate," Booth said.